A young computer game designer has taken to Kickstarter in an attempt to help get his project off the ground.
Alistair Neill, a 19-year-old game designer who is the lead developer for Xeno, a sci-fi first-person shooter which has been in development for two years is hoping his mix of old school gameplay and modern elements will be a hit.
The title Xeno is taken from the word for 'foreigner' and refers to the enemy of the game, an invading alien force.
Alistair admits the game takes inspiration from games such as Unreal Tournament and Doom but he has mixed in the much-loved elements of modern games to create a fresh experience.
He said: "Most older games were slower paced, they had no sprint and many had unlimited weapon holsters.
"I have used this element from older games, while combining some newer elements which are not common place."
Alistair highlights include the use of a 'thruster pack' as one such modern element, which gives players new ways to move around the game world.
Xeno also incorporates an 'aim down sights' option which allows you to look through the weapon's sight to improve accuracy, as well as a regenerative health mechanic.
The game has cleared through the prototype stage and all the basic gameplay elements have been designed and tested, but the Kickstarter campaign would allow them to create a higher quality game.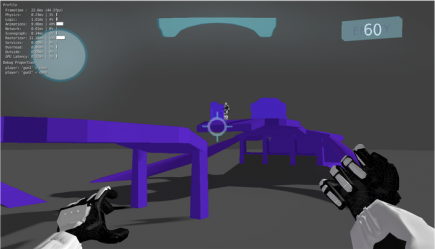 ALL GUNS BLAZING: A prototype of the game has been cleared
The Lancashire-based game developer said: "We need at least £5,000 to bring in new high-spec computers, so we can craft more detailed worlds, better equipment, a larger scale story, and more in depth multiplayer
"With the current technology at our disposal, the product will be much less satisfying so with the fundraisers help, we could produce the product we've always dreamed of delivering. "
The FPS will make use of Manchester's shooting ranges to create realistic gunfire sounds for the game.
The game is currently only in development for PC but if crowd-funding succeeds far beyond expectations, the studio will purchase development kits to create console versions.
He said: "It's difficult to determine how much we would need as we have not had any direct contact with Sony or Microsoft about pricing, but our estimates direct us to about £2,500 extra, on top of the fundraiser for £5,000, making the total £7,500 to create the game for all intended platforms."
Any contributors to the campaign will receive a reward from Orion Games, ranging from a simple thank you in the credits for smaller donations to a copy of the game for contributions over £25.
Hardcore believers will be able to contribute to elements of the game design and plans for the sequel, for contributions of over £500.
A pledge of £2,000 allows you to see your dream gaming map brought to life by the studio as part of Xeno's multiplayer.
Alistair said: "Any donation, whether small or large, is appreciated by us, and we will take the time to thank each one of you that helps fund development, and go forth in creating the FPS game for a generation."
Should the Kickstarter fail the plan is to instead turn the created game elements into a feature film, which would hopefully spark interest in the franchise.
The 19-year-old said: "Our computers cannot process the game engine in real time appropriately, but what they can do is render the visuals out onto video.
"This means we can create a movie with the current machines, so we can design a film based on Xeno, which would hopefully bring in a larger fan-base so we can try again with the fundraisers at a later date."
Orion was founded independently in 2010 and the studio released their first game the following Halloween, Dark Woods a horror FPS which had over 3,000 downloads in the first week.
Alistair said: "The intention was to create original content for those who may find it difficult to download AAA games for example those with low end PC's, or Mac computers, areas where the market is lacking.
"Since then we have become much larger as a company, bringing in new assets to work in the team, producing bigger, much more ambitious projects such as Xeno."
Alistair hopes to be able to show off the finished title at Manchester conventions such as Play Expo and Comic Con, but admits the game is still a few years away from being complete, with the earliest release window being 2018.
He said: "At this rate, the game would not be released until at least summer 2018, and even then, the game may get delayed due to bug fixes or general creative issues.
"But on the bright side, there may also be dates pushed forward.
"If funding is successful and we bring in good machines for development, production would go at a faster rate, increasing the chance of an earlier date."
You can contribute to the Xeno Kickstarter campaign by clicking here.