The 'beautiful and unusual' Tigon – a tiger, lion cross – that people flocked to the city to see in the 1940s is going on display at the Manchester Museum after 65 years in storage.
Maude, who was once the pride of the Belle Vue Zoo, was a famous attraction for tourists and visitors throughout the 40s along with her brother Kilou.
Tigons are very rare and this is the first time one will go on display in the UK for around a 100 years.
Henry McGhie, Head of Collections and Curator of Zoology at Manchester Museum, said: "Maude was far too beautiful and unusual an animal for her remains to be kept away in a storeroom."
When Maude died in December 1949, Gerald Iles – who brought her and her brother to the zoo in 1936 – arranged for her skin to be preserved so she could go on display at the musem, which is part of the University of Manchester.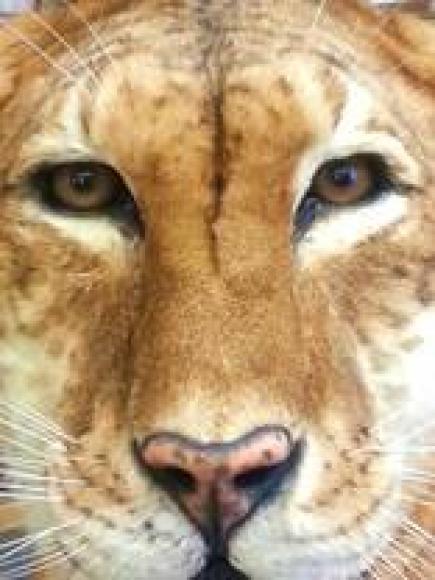 TIGON: Maude was one of two tiger/lion crosses to be brought to Manchester in 1936
Iles had studied Zoology at The University of Manchester, and gave a number of specimens to Manchester Museum.
The skin was never mounted, but kept rolled up in a store room so the recent taxidermy of the Tigon has been a very delicate operation due to the ageing of the hide.
The taxidermist said that it had been both the most challenging and the most rewarding job of his long career.
Mr McGhie explained that this is an opportunity to not just see the tigon in her former glory, but learn about her story and a forgotten time in the city's history.
He said: "We want people to be able to admire her, and to hear more about the now-forgotten time when Manchester was home to such unusual animals.
"I hope that people will find her story as fascinating as we do."
Maude and Kilou were the offspring of a male Manchurian Tiger and an African Lioness.
After moving to Manchester together they received an enormous amount of visitors because of their rarity and beauty.
Kilou sadly passed away seven years before Maude in 1942.
In a letter to the Museum from 1950, Iles wrote: "During her lifetime here, Maude was always greatly admired and I would say loved by a very great number of our visitors.
"She was always quiet and good-mannered and always appeared to be perfectly groomed."