Manchester comedian Jason Manford has released a moving statement following the tragic death of teenage cancer fundraiser Stephen Sutton, who has passed away peacefully in his sleep.
The 19-year-old, from Burntwood in Staffordshire, raised more than £3million for the Teenage Cancer Trust after news of his battle went viral on social media.
Stephen was readmitted to hospital on Sunday after developing breathing difficulties caused by the re-growth of tumours.
'RIP Stephen Sutton' was trending on Twitter as news of the youngster's death broke and thousands of people paid tribute to the fundraising hero's short life.
Jason Manford, who played a major role in creating awareness of Stephen's Story, took to Facebook and wrote: "Stephen Sutton was the most inspiring person I've ever met and touched more lives than he will ever know.
"He was an incredibly positive young man and a credit to his family, to Burntwood and to humanity itself.
"The reason we took to him so passionately was because he was better than us – he did something that none of us could even imagine doing."
Stephen had initially set out to raise just £10,000 for charity, but his fundraising campaign attracted huge attention last month after he posted a final selfie online.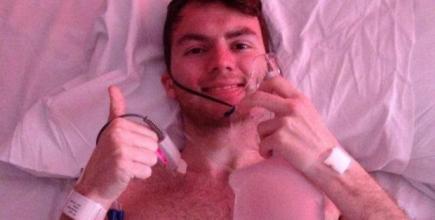 HERO: Stephen Sutton's selfie campaign raised £3.2million before his death
Along with the help of funnyman Manford, Stephen's campaign became a global sensation as the number of donations skyrocketed past the £3m mark.
"In his darkest hour, he selflessly dedicated his final moments to raising millions of pounds for teenagers with cancer," Manford continued.
"Some of Stephen's words will stay with me and others forever and they are words to live by – life isn't measured in time, it's measured in achievements.
"If that's true Stephen, then you had a fulfilling life full of special moments and you will live long in the memory of thousands if not millions of people. Sleep well friend."
Stephen captured the attention of thousands of people across the globe, including Prime Minister David Cameron.
I'm deeply saddened to hear that Stephen Sutton has died. His spirit, bravery and fundraising for cancer research were all an inspiration.

— David Cameron (@David_Cameron) May 14, 2014
In a post announcing Stephen's death, his mother Jane Sutton said she was proud of her 'courageous, selfless and inspirational son'.
Ms Sutton said in her statement: "My heart is bursting with pride but breaking with pain for my courageous, selfless, inspirational son.
"The ongoing support and outpouring of love for Stephen will help greatly at this difficult time in the same way as it helped Stephen throughout his journey.
"We all know he will never be forgotten, his spirit will live on in all that he achieved and shared with so many."
Stephen, who was diagnosed with metastatic bowel cancer at the age of 15, has been hailed by various celebrities and politicians who have been moved by his passing.
RIP Stephen Sutton. A true hero & inspiration to us all. #stephensstory

— Ricky Gervais (@rickygervais) May 14, 2014
Tragic news that Stephen Sutton has passed away. His bravery & determination to live life to the full was an inspiration to us all.

— Ed Miliband (@Ed_Miliband) May 14, 2014
Desperately sad to hear that Stephen Sutton has died. I feel privileged to have met him and heard him speak. @_StephensStory

— Clare Balding (@clarebalding) May 14, 2014
RIP Stephen Sutton. An inspirational young man who raises over £3million for the Teenage Cancer Trust. pic.twitter.com/YWC2v94acU

— John Leech (@johnleechmcr) May 14, 2014