Food bank bosses in Manchester have revealed the number of families relying on food parcels to survive this Christmas is at an all time high.  
Liam Hannan, who runs Manchester's Central Foodbank, says the team are braced for their busiest period yet, providing food parcels to families dependent on handouts.
The charity, which has 218 volunteers, is the first and only student-led foodbank in the UK and supplies emergency food to those in need.
Liam told MM: "The scale of the rise was unexpected. We are feeding about twice as many as we thought we would be.
"We are unsure whether the spike is due to an increase in deprivation, an increase in awareness, or the recent transition to Universal Credit, but we suspect all three may be playing a part."
This Christmas the centre has teamed up with four talented local artists to create a selection of festive-themed Christmas cards, with all the proceeds raised will be donated to the centre.
As many as 20 people per day are coming into the centre with up to 70 per week on average. During last month, a week saw 150 people come to the centre for basic food needs.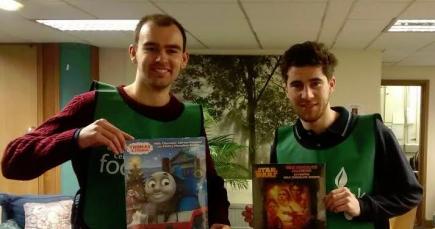 FESTIVE CHEER: Volunteers at the foodbank are gearing up to help those in need
Liam said: "Families are given a food parcel with enough food for three days and three nights and breakfast on the fourth day.
"We help people for as long as it takes but we need to see that that person is making an active effort to help to resolve their crisis. We don't like to create a culture of dependency.
"The vast majority we support we see less than three times, and most people just once."
The manager went on to say he had seen a brand of tinned fish that they centre donates on the street that appeared to have been smashed open with a rock.
Liam said: "It was hard to envisage someone in that level of poverty that they actually didn't own a tin opener. The deprivation out there runs deep.
"The fact that there are so many people left vulnerable in a society such as ours is shocking. It's not until you scratch the surface that you realise how deep the vain of poverty runs.
"Manchester is a particularly bad case, it's both so wealthy and so poor which is not expected, that's what makes it so shocking. The divide between those with and those without is so obvious.
"I would like to reach a place where we did not need food banks. I think they are an unfortunate reality of our lives."
Image courtesy of Staffs Live, with thanks.