Two Greater Manchester fire fighters will be leading the charge up the height of Mount Everest – by climbing a fire engine ladder 1,000 times.
Kevan Downey and David Cracknell will scale 8,848 metres, the height of Mount Everest, by repeatedly climbing up a ladder to raise money for the When You Wish Upon A Star foundation.
The duo, alongside other Greater Manchester fire fighters and volunteers, will scale a 13.5metre ladder more than 1,000 times over six hours in their bid to reach the summit.
"We have never done anything like this before," Kevan told MM. "Other events like this have been held before but we haven't done this and we just wanted to do something different.
"We will basically climb up the ladder, come down a set of stairs when we get to the top, and then climb up the ladder again.
"The ladder will only be erected 7-8 metres high because of the walkway so it will take a while for us to do it."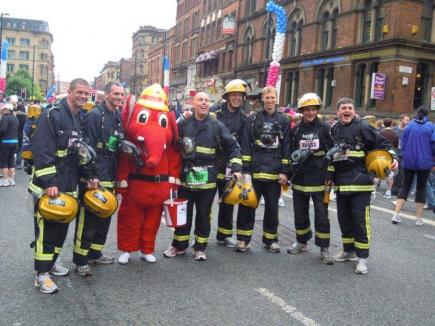 GRUELLING: Kevan and David are no stranger to charity
The event, which will be held on Saturday August 30 in Mersey Way Shopping Precinct from 10am, is the latest of many charity challenges the inspiring duo have taken on.
The duo have run Manchester's 10k in a 50ft long caterpillar costume and full firefighter breathing apparatus as well as cycling the distance of Land's End to John O'Groats.
Last weekend, they took part in the Dragon Boat Race at Salford Quays last weekend.
And their efforts have all been in the name of one charity.
"The When You Wish Upon A Star charity helps children with life threatening injuries and over the last couple of years from the money we have raised they have gone to Centre Parcs and met Santa at Christmas and it's really great," said Kevan.
"It's not just for children as well, but also the families and gives them something different to take their mind off things."
And despite admitting training has been lacking for their latest challenge, Kevan is confident they can conquer the gruelling climb.
"I mean we are pretty fit anyways and we are just hoping that will get us through," Kevan told MM.
"Unlike most people, although not every day, we use the ladder often so we are used to them."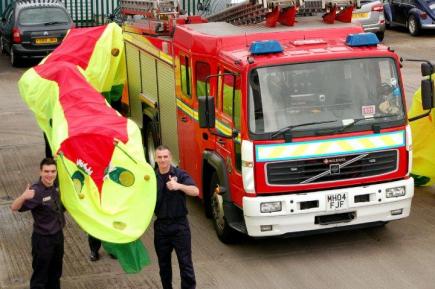 FOR THE CHILDREN: The pair ran Manchester's 10k in a 50ft long caterpillar costume
 
As well as money going towards the When You Wish Upon A Star foundation, The FireFighters Charity, which is the UK's leading provider of services that enhance quality of life for serving and retired fire fighters, fire personnel and their families, will also receive some funds.
And although there are no firm plans in place for another event just get, Kevan is confident there is another challenge on the horizon.
"We always say never again but in the end we always do something because it is hard not to when you know it is for such a good cause," he said.
However, despite the gruelling challenges completed to date, he admits that climbing Everest itself is perhaps a step too far.
"Only in my dreams," joked Kevan.
"I would love to but I would never do it in my life."