Seven Manchester nurses swapped their scrubs for walking boots to conquer the gruelling national Three Peaks charity challenge – with just 20 minutes to spare.
Staff from St Mary's Hospital braved snow-covered peaks and rubble-strewn paths to ascend the 3,407metres of the three highest mountains in Scotland, England and Wales.
The septet took part in the challenge to raise £4,000 for a vital sensory unit at the hospital's Newborn Intensive Care Unit (NICU), which will develop and stimulate the minds of the babies that are in care.
And with 24 hours in which to complete the event starting last Wednesday, it went down to the wire.
"It was unbelievable," nurse Louis Sage told MM. "It was really good, was really tough but we did it.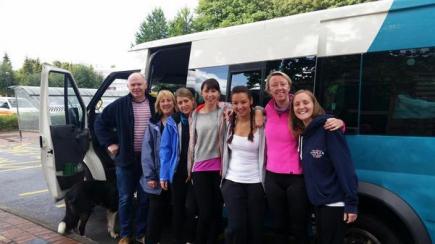 TOUGH TIMES AHEAD: The group pose before taking on the gruelling challenge
 
"We completed it in over 24 hours but we did it in the allowed walking time because you're allowed 14 hours walking and ten hours driving but we got held up in traffic and managed to complete it with 20 minutes to spare – so we are thrilled."
Louis, along with staff members Belinda Wyatt, Claire Hughes, Liz Dart, Sam Dixon, Ian Clark and Laura Mallinson, faced the challenge head on – with the majority of the group having never done anything of this magnitude before.
And the magnificent seven didn't peak too soon as they realised the enormity of their charity efforts soon after starting.
"From the off we were all really up for it," added Louise.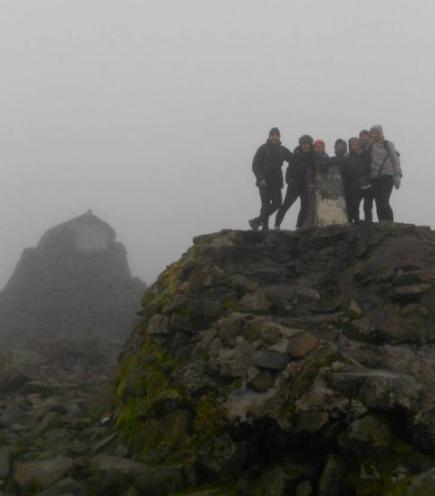 ONE DOWN TWO TO GO: Ben Nevis is the highest mountain in the British Isles
 
"We did Ben Nevis which was really difficult but we were in good spirits and then it dawned on us after a few hours just how tough it was going to be and what we were actually doing.
"On Snowdon we just knuckled down and got on with it and made sure that we did it.
"There was a welcome party at the end which was nice but it was the hardest thing we have ever done and at the end we were exhausted."
The nurses care for babies on the NICU who are born up to four months prematurely, can weigh only as much as a bag of sugar and often spend their first four-to-eight months alive in care.
The money raised from the event will be used to buy a multi-sensory unit, featuring fibre optic lights, bubbles and sounds and laser light projectors which will allow the babies to engage, have fun and develop at a crucial stage of their lives.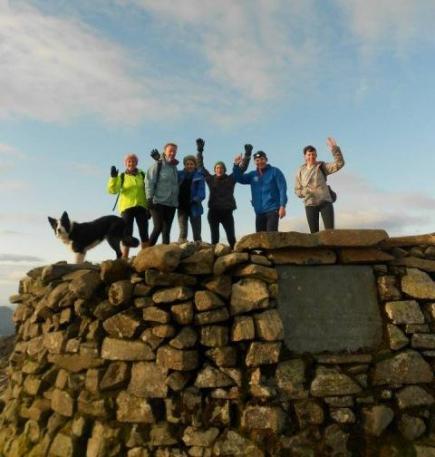 CONQUERORS: England's Scafell Pike was the third and final test
 
"We did this challenge to buy this unit to help with the development of the babies and keep them occupied as often they can become bored," Louise said.
"It will also help to make things calm in what can be a very stressful job so it really will make a big difference."
And even when the going got tough, the nurses only had to draw inspiration from what they see in their day-to-day jobs.
"When we had to dig deep we just thought about the babies and what they have to go through which is nothing to what we were feeling," admitted Louise.
"There was no way we weren't going to complete it."
So far the nurses have managed to raise more than £3,000 from their climbing exploits but Louis is confident they will reach their goal of £4,000 in the next few days.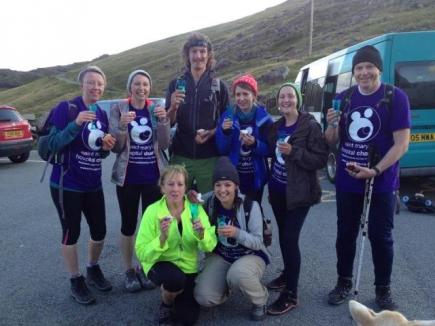 TOAST: The group raise a glass for their magnificent achievement
 
"We will have a display at work with pictures from our event and we just keep reminding people about it," she said.
"We know there are still plenty of donations to come so I'm really confident we can reach our target."
And despite nursing sore bodies, with adventure still fresh in their minds, thoughts have already turned to next year and possibly another challenge.
"We have all got the bug now and we feel so good," said Louise.
"We even started talking about what we might do next year on the way down Mount Snowdon and we've thought about maybe doing a triathlon, which really would be a challenge."
To make a donation, click here.