The 638% increase in male victims of reported and attempted rape may just be 'the tip of the iceberg' according to one survivor.
Greater Manchester has seen the number of recorded incidents increase more than six-fold since 2012.
In 2019, GMP recorded 504 male victims, compared to 552 in 2018. But, whilst bucking a trend which kept rising ever since 2014, the number remains extraordinarily high. Over the eight year period, 2019 marks the second highest total in recent history.
Source: Greater Manchester Police
More males have certainly reported assault, but the number of male victims remains substantially low. It is not even one sixth of the number of female victims. 
In 2019, there were 3191 recorded or attempt female victims of rape, an increase of 4.7% compared to 2018. 
| | | | | | | | | |
| --- | --- | --- | --- | --- | --- | --- | --- | --- |
| YEAR | 2012 | 2013 | 2014 | 2015 | 2016 | 2017 | 2018 | 2019 |
| FEMALE | 688 | 780 | 851 | 1317 | 1707 | 1848 | 3049 | 3191 |
| MALE | 79 | 101 | 87  | 194 | 231 | 321 | 552 | 504 |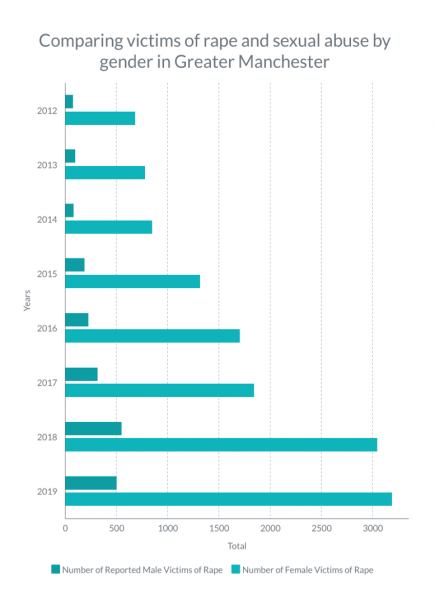 Source: Greater Manchester Police
Whilst not being aware of the situation in Greater Manchester, Alex Feis-Bryce, CEO of Survivors UK warned about taking police statistics at face value. 
In a recent Guardian article, Alex shared his story where he was raped at the age of 18 during his time as a student at Manchester University. At the time, he did not know that men could be raped. Alex grew up 35 miles away from Manchester and admitted that if he was raped at home, he wouldn't know where to access support – even to this day.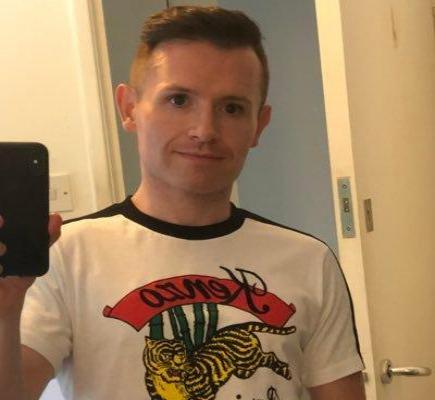 Alex-Feis Bryce, CEO of Survivors UK
Survivors UK supports men and boys when they are concerned that they have been raped or sexually abused as children. It is an inclusive service which provides services for those who are unable to because they of their gender identity – such as men and women who are transitioning.  
"If reporting levels go up, then that's probably a sign that more people are speaking out, not more people are being raped."
Males face significant pressures when it comes to reporting sexual abuse. Men are 'conditioned' from a young age regarding their perceptions on what is masculine and what is not. Alex alluded to a gender stereotype where men are judged differently to women in rape trials.
Conservative notions act as a barrier when it comes to male victims reporting abuse, where the idea that a man can be raped is 'emasculating' and men are not conditioned to talk about their experiences or feelings.  
The social barriers which prevent survivors coming forward and speaking out and myths about rape and sexual assault can be seen to play out in court cases. 
"Juries often think that if a man doesn't physically fight back, then it's obviously not a real rape."
"There is a homophobic rape myth – if a gay man who's raped, that gay men just want to have sex anyway – that's a homophobic stereotype – so it's not really as bad as a straight man or woman was raped."
Albeit sceptical about the reliability of police statistics, he alluded to well-documented examples such as Jimmy Saville and public trial court cases which have empowered male survivors to come forward. 
The latest England and Wales September 2019 crime survey of police recorded crimes shows a 5% increase in reported cases of males over 16 being a victim of rape.  This contrasts from the narrative in Greater Manchester where over the course of the year, there has been an 8% decline. 
GMP data has been excluded because of the implementation of a new IT system, meaning the force has been unable to provide latest data for July and August this year which could be seen to have skewed figures. 
| | | | | |
| --- | --- | --- | --- | --- |
| YEAR | Apr 2017-Mar 2018 | April 2018- March 2019 | October 2017-September 2018 | October 2018- September 2019 |
| Rape of a male aged 16 or over | 2,180 | 2,575 | 2,413 | 2,532 |
Source: Crime in England and Wales survey: year ending September 2019, Office for National Statistics (ONS)*
The government have only funded services for male survivors since 2014, with the Ministry of Justice noting a 200% increase in the number of men and boys accessing services. 
Candidly, Alex admitted that whilst this funding was welcome, it was merely a 'drop in the ocean.' It is hoped that the coverage of the Sinaga case will open up a conversation – with the aim that more men will feel able to speak out about their experience. 
Alex urged that the authorities needed to do more if the trend was to be reversed, starting with providing more resources for services. Alluding to his recent experience at Survivors, "we want people to come forward but we need to be able to meet the demands."
He warned that whilst popular soaps such as Coronation Street and Hollyoaks have had storylines which focused on episodes of male rape, the conversation about rape and sexual abuse remains gendered, with #MeToo an indirect cause. 
Alex referred to the fact that men and boys as well as men and women who are undergoing gender transitioning are, to an extent, excluded from the conversation because #MeToo was founded in 2006 to help black women and girls of sexual abuse. 
Males subjected to sexual assault has considerably rose up the domestic agenda, particularly following the trial of Reynhard Sinaga. Sinaga has been deemed the 'most prolific rapist in British legal history', according to the Crown Prosecution Service (CPS). 
The Indonesian was found guilty of 136 counts of rape, eight counts of attempted rape, 14 counts of sexual assault, one count of assault by penetration, against 48 victims. It is believed that there are 190 victims in total. 
Describing the Sinaga case as a 'horrible, horrible case', the fact men are coming forward shows that they do not have to suffer in silence. The impact of the case on Survivors as a charity has been 'massive', according to Alex, noting the considerable rise in the number of victims coming forward and contacting the hotline. 
There are a number of Greater Manchester organisations which provide support to victims/alleged victims of sexual abuse if anyone has been affected by this story.
Survivors Manchester – Helpline: 0808 800 5005
Manchester Rape Crisis – which help women and girls over the age of 18 who have experienced sexual violence. Helpline: 0161 273 4500
St. Mary's Sexual Assault Referral Centre is an organisation which helps men, women and children who have experienced sexual assault recently or previously. Helpline: 0161 276 6515
MASH (Manchester Action on Street Health) offers support and advice to women in sex work. Helpline: 0800 1830 499
GMP data set on rape/sexual abuse can be accessed here
The latest Crime in England and Wales survey: year ending September 2019 can be accessed here
* ONS data from April 2017 excludes Greater Manchester Police statistics. 
Regarding the reliability of police statistics, Greater Manchester Police have been contacted but we have not yet received a response.