Dangerous Giant Hogweed is spreading in Manchester's city centre – and there are fears that children will be hurt.
The gigantic plant – usually found by the city's waterways – has spread to open land between a children's play and picnic area and Victoria Station.
Skin touched by Giant Hogweed sap becomes very sensitive to ultraviolet light (sunlight).
That photosensitivity can lead to burns and permanent scarring.
And if the sap gets in the eyes it can cause blindness.
Urgency
One concerned railway worker told Mancunian Matters he reported the plant to Manchester City Council  "several days ago".
"Why is it so hard to get Britain's most dangerous plant fenced off?" he pleaded.
"This is in the middle of town and right by a path and near a kids' playground."
He called for action "with a bit of urgency because of the damage this plant can do".
Warning
During the June half-term break a Bolton four-year-old was hospitalised with second-degree burns after touching giant hogweed in Longsight Park, Harwood.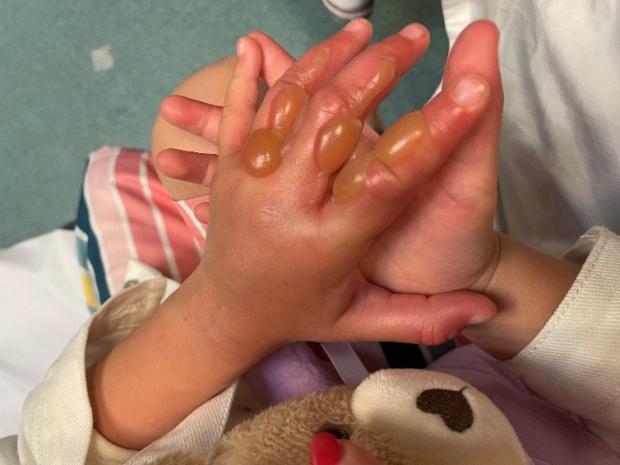 The little girl's injuries were so severe it prompted her school to send a safety leaflet to parents.
"Please look out for this plant in your gardens and when out and about with your children," the leaflet said.
"It would be helpful to show your children what this plant looks like so that they can avoid coming into contact with it."
Distinctive
Giant Hogweed is distinctive, growing up to five metres tall.
The flowerheads can measure nearly a metre across.
It has thick, purple-red stems with stiff, white hairs, and white flowers.
A member of the cow-parsley family, it grows by waterways, on waste ground and rough fields.
A single plant can produce up to 20,000 seeds.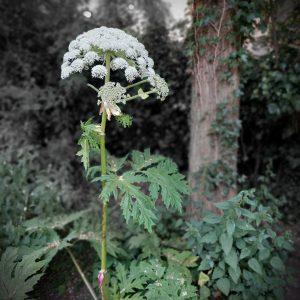 Confusion
It is not clear who is responsible for removing the Giant Hogweed near Victoria Station. 
A Manchester City Council spokesperson said the issue was being looked into.
But she added the land is apparently owned by Network Rail.
A Network Rail spokesperson said the site is leased to the council.
Public concern
Several passers-by told Mancunian Matters they did not know what Giant Hogweed was and were shocked to find out how harmful it is.
One said: "I don't think a lot of people would know what it was.
"If children went near it it wouldn't be very healthy for them would it?"
Another described the flower as "cute" but added: "It's dangerous, don't touch it."
The discovery of the plant off Victoria Station Approach / Todd Street comes days after the publication of an interactive map by whatshed.co.uk of giant hogweed hotspots.
The map shows how widespread Giant Hogweed has become.
It spread in the wild after being brought to the UK from South-West Asia in the 1800s as an ornamental plant.
Worried passers-by have been taking to social media to warn each other of hotspots.
You can also report giant hogweed to Manchester City Council – the plant is classed as controlled waste and can be killed using a licensed chemical spray.