Manchester City midfielder Ilkay Gündogan has launched a charity auction to aid cafes and restaurants across the city.
Many Manchester independent and hospitality businesses have faced the brunt of the numerous lockdowns due to COVID-19.
Sadly, some much loved cafes and restaurants have had to close down due to lack of funds.
Gündogan Tweeted: "I love spending time in all the varied restaurants and cafes across Manchester, but as you may all know the gastronomy is in a very difficult situation due to the lockdown right now."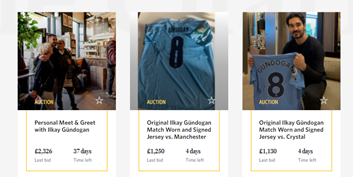 People can bid for various different prizes such as signed match-worn shirts and boots or personal and virtual meet and greets with the Man City player.
The charity auction will run until the end of the current Premier League season.
The proceeds raised from the auction will be donated to restaurants and cafes in Manchester.
He added: "I want to use the initiative to support people during this challenging time and at the same time offer fans the opportunity to buy something special at auction."
For more information on the charity auction and your chance to win something click here: https://www.charitystars.com/foundation/ilkay-gundogan-charity-for-manchester
Main photo: Ilkay Gündogan Twitter