The North Face bought some of Manchester's finest artists to the height of First Street last week in a celebration of urban exploration.
Among the performers were grime star Bugzy Malone, Manchester collective LEVELZ, Nadia Rose and The Mouse Outfit.
The event was the final date of The North Face's Pinnacle Project. The first date saw the brand go 2100metres above sea level in the heart of the Dolomites in Italy, where they auctioned iconic clothing pieces worn by people such as American climbing legend Conrad Anker, who discovered George Mallory's body on Mount Everest in 1999.
The second date of the project was in Berlin, which included live music, climbing walls and much more.
The event was quiet at first but picked up as the evening went on, with many coming in later to catch the bigger acts of the evening.
The general vibe was relaxed until the crowd went wild for the live music performances, with the floor of the car park somewhat unsettlingly bouncing in tandem with the crowd during LEVELZ and Bugzy Malone.
Before his last song Malone, whose real name is Aaron Davis, showed his appreciation to the lively audience, announcing: "Every single time I perform in Manchester it's a f*cking shutdown, there's no place like home."
Manchester, look to the skies – #PinnacleProject has arrived. If you're lucky enough to be up here with us, tag your shots with #PinnacleProject so we can share the adventure. #NeverStopExploring pic.twitter.com/P8VJuWPwMa

— The North Face EU (@TheNorthFaceEU) October 6, 2018
Also at the event was a live art exhibition from Manchester-based artist Lei-Mai and a climbing wall with demonstrations from The North Face athletes. Attendees to the event had the opportunity to win a limited edition The North Face Nuptse jacket if they could climb the wall within the time limit.
The climbing wall had demonstrations throughout the day from The North Face sponsored climbers such as Aidan Roberts, who showed off his skills and taught the best technique for the attendees to be in with a chance of winning the jacket. We spoke to Aidan, 19, before the event kicked off.
MM: How did you get into climbing?
AR: I grew up in the Lake District, there's loads of great climbing around there and I generally spent a lot of time outside so I think that kind of inspired me to get into the sport.
You were Britain's first junior European champion, you won the 2015 European Youth Bouldering Championships aged 16, where have you gone from there?
That was a really great moment for me, sadly the next year I had a pretty bad injury on my foot and was out of competing for that whole season. I got back into it towards the end of the next season when I was still in the youth competitions and it went pretty well, I was pretty happy with my results.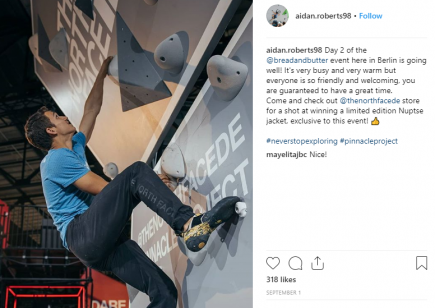 Since then I've progressed into the senior categories, so this is my first year in the senior categories. It's been a big step up but I've seen some improvements and got confidence for next season.
What was the injury if you don't mind me asking?
I was bouldering out in Fontainebleau in France and took a pretty large fall on to flat rock and shattered my heel, so I've got some metalwork in now.
So who are your inspirations in climbing?
When I was getting into climbing I got to know a load of the good climbers about. There was a local climber called Dan Varian, who's less well known but is probably one of the strongest outdoor climbers in Britain I feel. I met him when I was getting into the sport and he did some coaching for me and we'd go climbing quite regularly and I think that was really good for me.
How long have you been sponsored by The North Face?
This is the third year now.
And what's it like being signed to such a prestigious company?
Yeah it's great, I really enjoy working with them, the people are really good and really generous. It's been a really nice experience.
You were at the Pinnacle Project event in Berlin, how was that?
It was great, it was loads of fun. It had a very different feel to this event in that there was so much going on, it was all inside. Everyone was there for multiple events whereas here this is kind of the main feature. It's quite interesting to see that everyone who's going to be here has come specifically for it.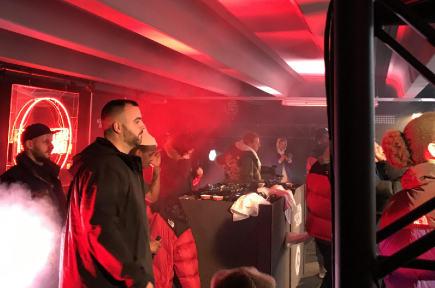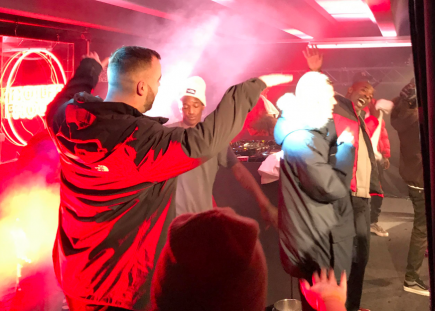 'NO PLACE LIKE HOME': Bugzy Malone shuts down Manchester…
What do you do outside climbing, are you studying?
I just started university in London actually, I study Maths at UCL.
How does training and climbing fit into your studies?
It's gonna be a bit of a fine balance, I've got a lot of training to do this winter and fitting that between studies might be a bit of challenge but I look forward to it and I like getting into the routine.
And how do you train? Have you got training facilities at university?
Not in my university but London has a lot of options when it comes to indoor climbing walls and so much variety is really good for competitions.
What's the training like? What's the diet?
I become slightly more relaxed with my diet over the winter but generally I do put quite a lot of work into my diet especially during the competition season. The training is pretty hard work, I've got a coach I work with and we plan it all out.
What's the climbing moment you're most proud of?
Outside climbing I've had a really good trip to Rocklands in South Africa and that was great for me. I made a lot of personal bests in terms of grades and also just had loads of fun. In competitions maybe the highlight was winning the European Youth Bouldering Championships back in 2015. I think it will be hard to top that. I haven't been so happy with my results this year but I feel encouraged by, I feel like I can do well.
What have your results been this year?
It's my first time on the senior level and it was interesting to see how different it was. It felt like the mental game for me had made a massive difference, I didn't feel too prepared for it. But I was able to make semi-finals in Vail in America which I was pretty happy with. But again I feel like I didn't climb as well as I could have. I've got a lot to work on still.
What's your long-time goal for climbing?
Climbing has just got into the Olympics so think it's always going to be on the radar and I'm keen to work towards it. I feel I'll always prioritise bouldering, that's my main discipline. I plan to do the Bouldering World Cups next year and hopefully get some better results.