Manchester Giants were clearly suffering from a hangover after last weekend's groundbreaking win over the pre-season favourites Worcester Wolves, losing two games on the spin.
On Friday the BBL side lost away to Leeds Force, knocking them out of the cup, before going down 82-73 at home to Bristol Flyers on Sunday.
It was always going to be tough to follow up on the historic against Worcester, but the disappointment of losing to two league newcomers was etched all over coach Jeff Jones' face as he spoke to MM on Sunday.
He said: "After last week I think the guys got carried away with themselves a little bit. But they're old enough and mature enough that they should be able to come back out and play on our home court.
"It just came down to game intelligence and not being very smart when we needed to be. I can't transplant any brain cells to them, but they need to start recognising when to go hard and when not to.
"They're not bad guys, they're playing hard but we just have to play much better basketball."
The injury to veteran centre Mike Bernard, who serves as the team's linchpin, was a major factor said Jones.
He said: "The thing we've got to do is learn to play without Mike. We didn't have him on Friday or tonight. We were just really out of sync, we never got into rhythm."
Bernard, who was limping as he left the Trafford Sportsdome, will have scans on his injured hip this week, but Jones is worried that he could see a lengthy spell on the sidelines.
Jones said: "If he's out for a long time then we would have to probably look at doing something in the market.
"We probably needed another big guy to step up and give us quality minutes but right now we don't have one."
New Aussie import Darren Best echoed his coach's sentiments regarding last week's big win, but vowed he and his teammates will come back stronger than ever.
The 6ft 7in forward told MM: "Some people have said we're suffering a hangover from the Worcester win, and that's always a possibility.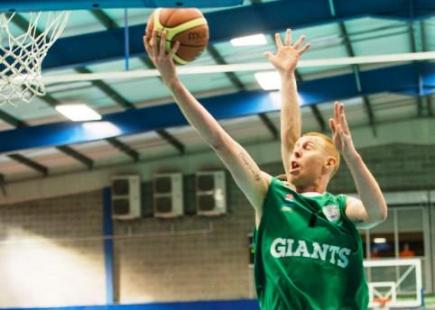 HARD YAKKA: Australian Best a big fan of Giants work ethic
"Especially in this league, where everyone can beat anyone, we can't afford to have any sort of complacency. We've shown in the past we can do it we've just got to give 100% every time.
"The great thing about us is there are no egos in this bunch – we're a very workmanlike team.
"We're all in a situation where some of us are a little bit older so winning is more important than the individual and we realise the only way to do that is to play together so either way, it's never going to be just one person."
Now at 2-2 in the league, the Giants will look to get their season back on track this weekend, with a double-header against Sheffield Sharks and Surrey United.
Coach Jones said: "Looking forward to next week there are definitely things to work on. It's about intensity and concentration.
"If execution picks up even a little bit, we're easily close to winning games like these by 10, 15 points. At any rate next week we'll be ready to play."
Images courtesy of Jack Hinds, with thanks.