Winter Olympians in the UK have come a long way since snowboarder Ben Kilner became the first British World Cup men's halfpipe bronze medallist in 2010.
For it will be medals, not near misses, expected of Team GB in Pyeongchang 2018.
Kilner, speaking with the confidence of a man striving for podiums, says he expects the Brits to feed off the momentum from the summer Olympic success at Rio 2016.
"We had that feeling coming off London last time, but obviously they've done even better this time in Rio," Kilner told MM.
"I think the public are so much more behind Team GB than ever. It's going to be different in a good way."
The South Korean games will be the Scotsman's third Olympics and he is hoping that his experience will help the team's chances as well as his own.
"I think I'm older, some people have told me I'm a bit more wise, I'm not sure about that," the 28-year-old said with a grin.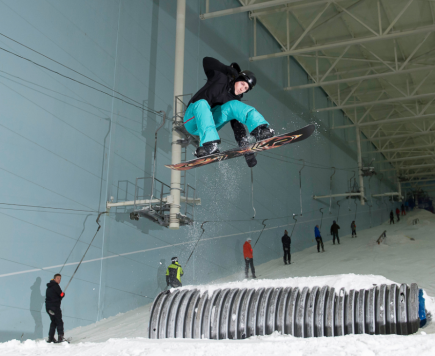 GREAT MENTOR: Ben wows Chill Factore onlookers and hopes his experience will pay off at the Pyeongchang 2018 Winter Olympics
"I'm basically there as a mentor to others that are there for the first time, and for myself obviously. I want to excel in performance and make sure I'm giving it everything I've got."
Kilner hopes to achieve his highest ever finish in an Olympic games – his best of 16th coming in 2014 following an 18th place four years earlier.
"If I get to the finals I can throw down one of the hardest runs I've got to give.
"Once you get to finals you can kind of lay it down then. You've got nothing to lose."
When pressed if an Olympic medal would be the pinnacle of his career, he answered, with a smirk and a laugh: "Well it would be lovely."
Kilner was talking to MM while showcasing his highflying talents as he tore up the freestyle park at Manchester's Chill Factore.
After Olympic experiences at Vancouver 2010 and Sochi 2014 he was visiting the indoor ski and snowboard centre as part of their 'Freestyle with the Stars Day' to check out the snow and offer some top tips to local snowboarders.
"The staff are brilliant and they always make a place," said Kilner.
"The guys that deal with the park are brilliant, they obviously know what they're doing and they build features that the public need and want."
The freestyle park wasn't saved exclusively for Olympians and a few lucky MM readers won the chance to take part in an exclusive masterclass with Kilner, which included an hour session on the freestyle slope with the double Olympian and one of the Chill Factore instructors.
One of the competition winners Marie Crave, 47, said being coached by an Olympic snowboarder had been a brilliant experience.
She added: "Both Ben, and Dave from the Chill Factore, have been brilliant. Very patient with us at the beginners end of the spectrum.
"I've been taken totally out of my comfort zone as promised."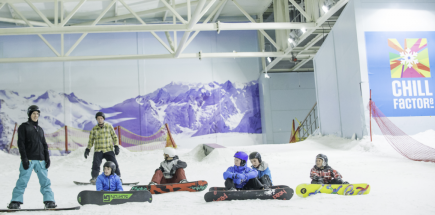 COMFORT ZONE: Winners of the snowboarding masterclass take a breather after being put their paces
For more information about Chill Factore visit: http://www.chillfactore.com/