Sochi 2014 saw a breakthrough on the slopes for Team GB with the emergence of 'fridge kids' – the young skiers and snowboarders who trained in indoor snow domes – as they began the long ascent to the top of the sport.
And the next generation is already making sure Team GB won't be going downhill.
Earlier this month Britain's young snowsport talents converged on the Chill Factore in Salford for Snowsport England's 2014 Indoor Championships.
Youngsters who took part will be trying to follow in the footsteps of Jamie Nicholls, Katie Summerhayes and James Woods, who learned and honed their skills on artificial facilities in the UK.
Snowboarder Jenny Jones won Great Britain's first ever Olympic medal on snow earlier this year in Russia and hopes are high that her success can be built upon in Pyeongchang, South Korea, in 2018.
And because of success like this, events such as the English Indoor Ski and Snowboard Cross and Slopestyle Championships have become considerable important.
One athlete who is hoping to use the events as a stepping stone to Olympic success is Kyle Wise, who successfully defended the men's snowboard cross title he won in 2013.
He told MM: "I've set myself a four year plan to the next Olympics, so I can be the best athlete possible.
"And hopefully the best I can be is a good result at the Olympics."
The 25-year-old has already represented Great Britain (at the Winter University Games in Trentino last December) and believes that he has what it takes to compete at the very highest level.
"I learned in Trentino that I definitely have the speed to be in the top 16, which was where I was aiming to be," he said.
"The guys who finished above me there were the same guys who are currently the European top 20 – and one of them [Nikolay Olyunin] won silver at the Winter Olympics."
Wise also praised the English Indoor Championships, saying: "There are not a lot of grassroots events for snowboard cross, so it's very good we have this now as an annual event along with the British Championships.
"Being in Manchester, it allows people from across the UK to come and compete, and the course is good preparation for what it's like competing out in the mountains."
The Olympic hopeful is working with Snowsport England to improve UK snowsports training facilities, building on the foundations which have propelled the 'fridge kids' to the top end of the sport.
"The idea is that eventually people like me won't need to go out to Europe to train, you can stay here and do a lot of training," he said.
"There are certain elements that you can replicate, the smaller things like the start sections, but the jumps are a lot more difficult.
"Freestyle riders have been able to ride all year round, so I don't see why we can't too. You've got slopes in Scotland, so there's potential there."
Snowsport England is also currently developing a 'performance pathway' to aid promising young athletes and those who want to learn off the back of watching the sport in Sochi.
"Hopefully we can get more people doing well at it, like Zoe Gillings, and there'll be a performance pathway to support athletes and get them to the level they want to be at," added Wise.
"The idea is to provide more support – a training programme, nutritional information, that sort of stuff – then the better you get the more you get out of it, and people know what they need to do to reach the top level."
One of the young athletes looking to benefit from Snowsport England support is 13-year-old snowboarder Tomski Robinson.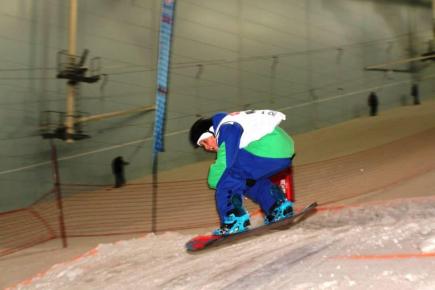 HITTING THE SLOPES: Tomski Robinson hopes to be the next generation of snowboarders for Team GB
He competed in both the boarder cross and slopestyle events in Manchester, finishing above many of his more senior competitors.
"I've been doing it for about five years now," he told MM.
"I got into skiing first, and then saw snowboarding and wanted to try it.
"I enjoy that you can always learn new tricks and it's always fun."
On his future ambitions in the sport, he added: "I'd like to compete in the Winter Olympics or the X-Games."
Another young talent is 14-year-old Cerys Allen, who was the fastest preliminary qualifier in the women's snowboard cross.
That achievement was especially impressive given it was her first time at the championships, after coming second in the women's slopestyle in 2013.
"I'm pretty stoked [to be top] – I don't usually do boardercross," she said.
"The focus was just getting down without falling over. I'm just really happy that I managed to get that good a time."
She also stressed the importance of the championships, saying: "This event does help [with grassroots level snowsports], as it brings a lot of people together, people who don't usually do boardercross, they'll join in and have fun.
"My school is very supportive so I get as much time off as I need. They're happy with how I'm doing – I just need to make sure I get all my homework done."
Images via Snowsport England, with thanks