Manchester has caught Farah Fever as the Olympic champion has been turning heads in Spinningfields – or has he?
A waxwork of the pint-sized sporting legend, created by Blackpool's Madame Tussauds, is making a whistle-stop tour around the North West and resulted in more than a few double takes.
Mo may not be having the best week after pulling out of the Commonwealth Games, but on 12 years to the day since the same games were held in Manchester, the city have got behind the sports star… or at least his likeness.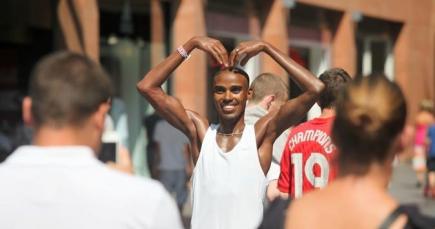 HAPPY CHAPPY: The waxwork didn't appear too down from his Games exit
Matthew Titherington, general manager at Madame Tussauds Blackpool, said: "The reaction Mo received in Manchester was incredible!
"Mo's figure is permanently on display at the attraction so it's ideal for Farah fans to come down and meet him face-to-face and they still have the opportunity to see him this summer despite not competing."
Mo's wax figure wears his signature Nike running kit and recreates his iconic Mobot pose. He currently lives in Blackpool alongside other sporting greats such as Wayne Rooney and Steven Gerrard.
Mo blew the nation away at the London 2012 Olympics with a brace of two gold medals in the 5,000m and 10,000m races and placed himself firmly in the pantheon of Olympic heroes.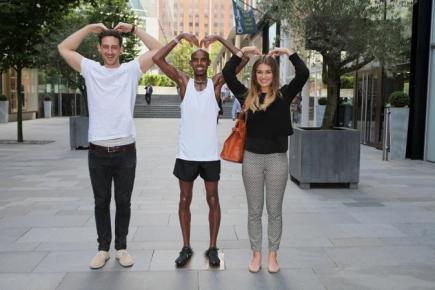 DO THE MOBOT! Passersby join in with the waxwork
He had been scheduled to compete in both the 5,000m and 10,000m in Glasgow. But he said his body had not recovered sufficiently from illness and he will instead focus on the European Championships in August.
Two weeks ago the 31-year-old was also forced to withdraw from a Diamond League meeting in Glasgow after spending two days in hospital near his home in Portland, in the United States, with stomach pains.
Farah was expected to be one of the headline attractions in a Glasgow athletics competition already which is already missing the likes of Jamaican sprint stars Usain Bolt and Yohan Blake.