So much of the Toronto Raptors' 2019 NBA Championship was special. 
The National Basketball Association's only current team outside of the United States won its first title. 
It brought an end to the Golden State Warriors' dominance of the league.  But maybe most unique is the story of head coach Nick Nurse, who won the title in his first full season as a head coach in the NBA. 
Nurse followed up the title-winning season by leading the Raptors back to the playoffs, and in doing so, won the NBA's Coach of the Year Award.
Nurse's journey is unlike any other NBA winning head coach.  He didn't coach in America throughout his coaching career but instead worked his way through Europe, with most of that time being spent in the UK.  From 1995 to 2006, Nurse coached four separate teams in the British Basketball League, including the Manchester Giants from 1998-2000. 
So how did a young coach who never played professional basketball in the US become one of the NBA's best coaches? Those who played under him, worked with him and watched him from the stands explain what he was like as a coach and a person during his days in Manchester and if his success has come as a surprise to them.
Nurse's journey in the UK began when he joined the now-defunct Derby Rams as a player-coach in 1990. After returning to America for several years, he returned to the UK in 1995 to be the head coach of the Birmingham Bullets. During his time in Birmingham, Nurse led the Bullets to a BBL title in 1996. Already, Nurse was one of the most coveted coaches in UK basketball.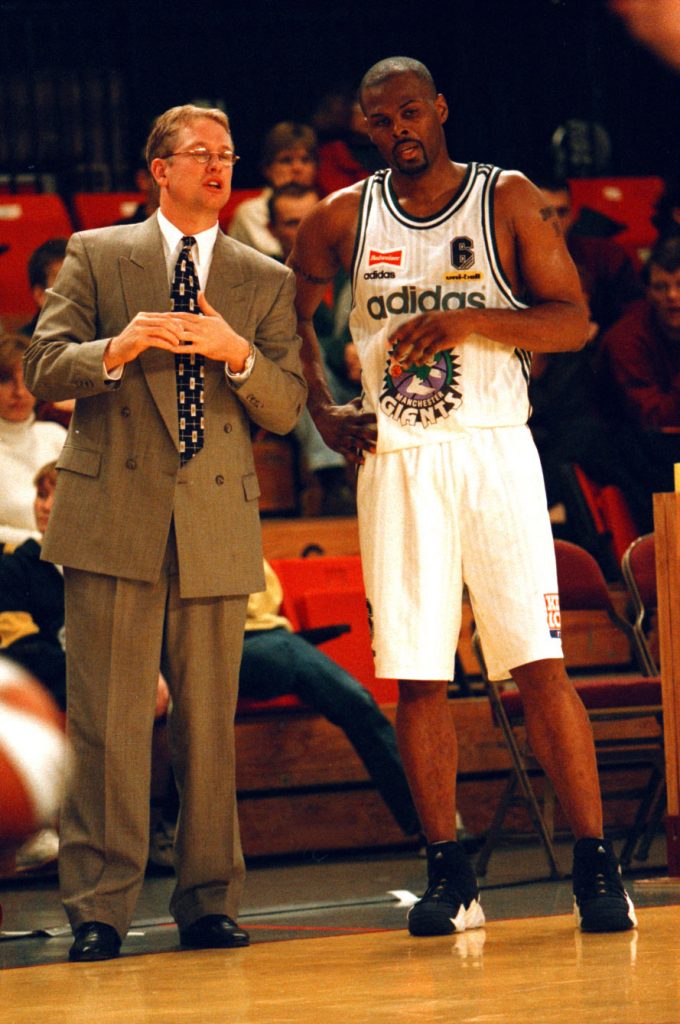 "They were headhunting to get Nick," says Ronnie Baker, England Basketball's most capped player and former Manchester Giant under Nurse. "He'd been over for a while and then he came to Manchester.  Back then that was one of the biggest jobs to get in British basketball."
Nurse joined the Giants in 1998, with the club enduring a bleak run of 12 years without a trophy.  Despite his recent success in Birmingham, he was still a young and fairly unknown figure to many.
Rob and Paula Bell have been following the Giants since 1995.  They explain that Nurse was following some older and more experienced coaches, making him seem very young.
"He looked pretty young to be coaching a top-level team, he looked younger than some of the players."  Indeed, Nurse had only just passed 30 when he became the head coach in Manchester.
Although it may have seemed a curious hire to some, the first impressions he left on the players showed that the Giants were set to improve.
"When I met Nick it was early in the summer so not many players were around," says Tony Dorsey, a BBL Player of the Year winner and multiple time All-Star who played under Nurse in Birmingham and Manchester.  "He and I got a chance to get to know each other and we instantly clicked. [I] Loved the fact that he is truly a players coach."
Another former Giants Jason Swaine tells a story of his first encounter with Nurse.  "We all lived in similar sort of housing in Wilmslow and I remember him coming up to one of the players houses that we were all at.  He said to us: 'we're all going to have individual goals and we're all going to have team goals and I believe that that can fit in together.' You look back and you know, his man-management was probably better than his coaching.
Nurse arrived in Manchester on a mission: to change a losing culture and turn the Giants into one of the UK's most formidable teams.  And that's just what he did.
Many things go into coaching: man-management, communication, decision-making, preparation.  In order to be an elite coach, to reach the pinnacle of any team sport, a coach must have these traits in abundance.  Those who worked with Nurse claim that he had it all.
"His man-management of other people, when you look back, was what struck me first of all about Nick that was new to me," Swaine says. 
He explains that as a young man in his early twenties at the time, he couldn't truly appreciate Nurse's brilliance back then, but he clearly recalls his former coach's man-management being what Swaine saw as his biggest strength.  "That's what he kind of brought to the table; he was very good at that."
This is echoed by Baker.  "I found him [to be] a really good man-manager coach." 
Baker insists that Nurse's coaching was just as good as his man-management, something that can not be said for all coaches. "Tactically as well.  Most coaches, they've either got one or the other.  They're tactically really good and their man-management skills aren't that good but Nick kind of had it all."
Baker also appreciates how Nurse treated all his players equally. "He treated everyone the same, even the guy who was the main man was treated the same as the guy who was like the eleventh man."
Dorsey states that it was "easy" to play for Nurse.
"[He] never limited his players offensively as long as you played hard on the defensive end."
Nurse clearly had the respect and admiration of his players.  Former England Basketball head coach Laszlo Nemeth, for whom Nurse was an assistant coach, believes that his strong relationships with players were down to his excellent communication skills.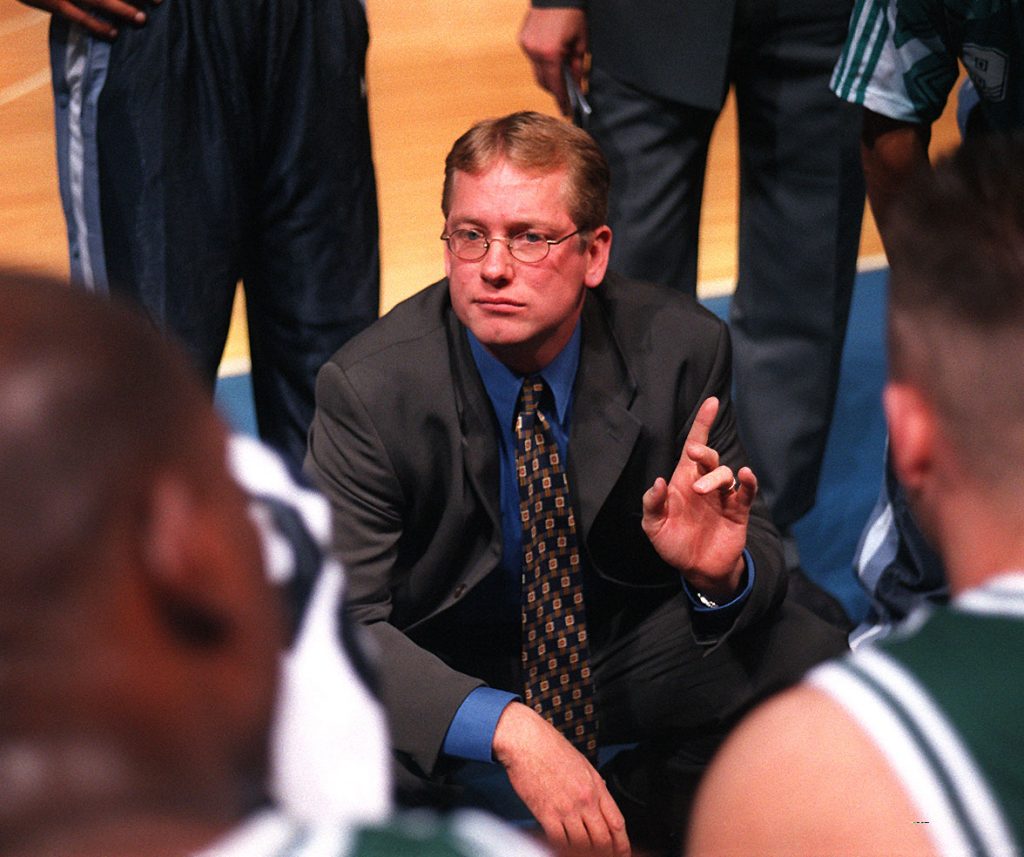 "Nick had an excellent communication line with the players.  Sometimes players are very emotional especially after a loss, and he could relay me the message in a very smooth way which never increased any conflict or grievance further.
"It contained the point as to what the players were feeling, then he added what he thought.  Then I could analyse these back-and-forth and then we could come to a decision."
Nurse is not only a great head coach but a valuable assistant head coach.  He spent five seasons as an assistant coach with the Raptors before being hired from within to the top job.  Nemeth, who had Nurse as an assistant himself, points to his relationships with players as the reason for this.
"In the Toronto set up, he was an assistant and obviously he gained the trust of the players when the decision time came."
From the outside looking in, as loyal fans, the Bells believe it was his tough decision-making that made Nurse special.  "He didn't seem afraid to make difficult changes, bring in players he knew could do the job he wanted, and try to turn the Manchester team into something becoming of England's second city."  Despite only being in his early thirties at the time, Nurse already had the conviction and determination of an experienced head coach.
Those who worked with Nurse also believe that his preparation made him special.  Baker explains that Nurse's approach to preparing for games made him unique.  "His organisation … just how he prepared for the upcoming games, better than any other coach I've been coached [by]. 
"He would make sure he'd done all the little things."
Nemeth concurs with this.  "When a general goes out and looks at a battlefield before a battle, he has a staff officer with him. They are looking around the battlefield and the staff officer says: "but general, can you see on the right, that point there is something," and points out the little details which may be crucial.  And yeah, that was Nick Nurse."
Nurse is not only a players coach, but a coaches coach.  He has all the attributes one could desire from their head coach and for those who worked above him, alongside him or below him, there is nothing but admiration for his style.
Nurse was highly respected throughout the organisation.  "Nick was loved by everyone within the organization as well as the fans," says Dorsey. 
Baker echoes Dorsey's comments.  "I think everyone really liked him.  I didn't hear any bad things about him from [the] people above.  It was all positive."
Swaine explains that his reputation as a winning coach coming from Birmingham set the tone.  "I mean he was well respected as a coach because he won at Birmingham so it's not like he was coming to Manchester without the experience." He goes on to say that the fact that Nurse was a "down-to-earth person" and "was as regular as all the guys" helped him earn the respect of everyone involved.  "I would say he was very well respected."
Over twenty years ago, it would have seemed ridiculous to say that the young head coach of the Manchester Giants would become a NBA title-winning head coach and a recipient of its Coach of the Year Award.  Until recently, it was unheard of for coaches who had coached outside of the US to have major success in the NBA.  Who could have seen this coming.  For those who worked with him in the UK, his success is not all that surprising.
The Bells point out that Nurse built an underperforming Giants team into an almost unbeatable side in just a couple of years.  "It was pretty clear that with the right backing, his ability to find the right people and determination to 'make it work', that he would achieve great things given just half a chance."  Indeed, Nurse won the NBA Championship in just his first season as the head coach of the Raptors (although he was an assistant coach there for several years).
"I always could see Nick coaching in the NBA," says Dorsey.  Currently a coach at Tri-Cities High School just outside of Atlanta, he says he bases his coaching of Nurse's and that he even runs the same offence they did in Manchester.  "All that he achieves he really deserves it, I'm proud to say I played for Nick and most importantly he is a friend."
Swaine insists that it is no surprise to see his former coach where he is now.  "I'm pleasantly surprised for the guy because he's a great guy.  Shocked? I'm not so sure.  It doesn't surprise me because of the way he deals with people.  When you're dealing with superstars, you have to be good at dealing with people and I think that was his major strength so, no I'm not at all surprised by what he's doing and I'm just pleased for him."
Nurse has often been praised for his innovation, particularly in the 2019 Finals.  His use of box-and-man defence (some players play in zone defence and some play man-to-man, a defensive scheme often used in children's basketball) in the title-winning series shocked many esteemed analysts, but now his former players.
"The NBA [analysts] often talk about " you know he's very innovative," and I mean, that's nothing amazing really.  It's just Nick dares to try new things."  Swaine says.
Baker references this as well.  "The funny thing about it [is] you can see a lot of the stuff they're doing there, we were doing that when he was over here with us.  I think in the Finals, a lot of the commentators were talking about [how] he's completely different to a lot of the coaches, trying different things on defence. 
"We used to do that all the time when I was at Manchester.  So it was good to see that stuff we did over here working in the NBA as well and it worked perfectly for Toronto in the Finals." 
"Obviously, every North American coach's dream, or even European, is to get to the NBA which is the pinnacle of basketball.  That is the Mount Everest to climb."  Nemeth explains.  "It is just a simple good feeling to see [him] succeeding. Total satisfaction I would say." 
Ultimately, Baker claims more than anyone that he could foresee Nurse's success.  He explains that in a conversation with another reporter around the time Nurse got the Raptors head coaching job, he predicted Nurse's success.  "I was saying to the guy I think he's going to do really well.  I said I think they're going to win the Eastern Conference.  I told the guy before that I think because I've been coached by him and I know the way he coaches and gets everyone involved.
"I had a good feeling they were going to do really well.  And I think I saw him a couple of years before when he came over when the Toronto Raptors were over and I spoke to Nick when he was one of the assistants.  He was saying "we're going to be really good."  And that was before he got the head coaching job.  You could see he looked really ready for it."
Despite how far he was away from being an NBA head coach, despite how impossible the idea of winning a NBA title seemed for a young American in Manchester around the turn of the century, those who experienced the Nurse-led Giants insist his success has not come as a surprise.
Nurse's story is very unique in the NBA world.  Although he is not the only current coach in the NBA to have coached abroad, his journey is wildly different to those who have also won an NBA title as a head coach.
"His NBA win is historical because in the United States, the European experience as a coach is not rated too highly," Nemeth explains.  "The British League wasn't [at] a Greek, French or Italian level.  So, here goes a guy, he arrived at the peak of Mount Everest of basketball."
Based on the accounts of those who saw first hand what he was like as a coach, he clearly made a lasting impression during his time in Manchester.  For a man in his early thirties from Carroll, Iowa, a town of about 10,000 people, Manchester and the UK as a whole would have been a culture shock.  But Nurse, as he always had done, adapted.
"I think he was at home being here, working with the players," Baker says.
Swaine mentions that Nurse embraced the culture of England's second city.  "There was myself, Ronnie Baker, Danny Craven – guys that had kind of appreciated the Manchester culture.  Nick went along with that too."
It is fitting that Nurse's title was won with the Toronto Raptors, the NBA's one team that isn't based in the US.  A team that had an unorthodox journey to get to its first NBA title.  In many ways Nurse is the perfect man for that team as he spent so many years outside of the US building his pedigree until he was finally given a chance at one of the biggest jobs in the World of basketball. 
Many in the NBA would never have heard of Nurse before a few years ago, and for them, his journey may just be getting started.  However, this is just the current stop on what has been a long and incredible journey.
Images courtesy of the British Basketball League, with thanks.