Film critic and Manchester alumnus Mark Kermode returned to HOME last night for a one-off evening of musical mischief and bass slapping with his old band The Railtown Bottlers.
Throughout the show Kermode, who studied in Manchester for six years from 1982, talked the audience through his various attempts to become a pop star during the 80s and 90s, before finishing with a one-off reunion of skiffle group The Railtown Bottlers.
The stories all feature in his new book How Does It Feel?
Despite the show being about Kermode's "life of musical misadventures", the critic couldn't help opening with a film reference, coming out and bellowing "Hello Cleveland", a line from cult 80s mockumentary This Is Spinal Tap.
A succession of stories of mishaps and hilarities across Kermode's career followed, from his short lived musical comedy act Henry One Hundred, which involved him dressed as  one of Showaddywaddy singing Communist manifesto themed songs (which unsurprisingly got booed off in its only public performance), to performing with TV presenter Loyd Grossman on the show Danny Baker After All in the 90s.
Whilst telling the tale of one of his former bands Russians Eat Bambi, whose name was inspired by a headline in the Weekly World News, Kermode was met by a heckle from none other than one of the former band members, Charlie.
These interactions with old friends and other audience members gave the evening a cozy feeling, making everyone feel as if they'd known Kermode for years.
Kermode's stories of trying to embody musicians across his childhood such as Paul Weller, Ian McCulloch, David Bowie, Kevin Rowland and both members of Wham! through a series of hats, haircuts and pouts were met with raucous laughter from the packed theatre.
After the interval there was a quick Q&A, in which Kermode jokingly tore into an aspiring musician with a string of drummer jokes, before the first performance from The Railtown Bottlers in 20 years.
Hedda's not wrong – Last night's reunion of @TheRailtownBs was an unforgettable experience for all in attendance. Come back soon, @KermodeMovie! https://t.co/np76ahphlY

— HOME (@HOME_mcr) 3 October 2018
The band started life busking on the streets of Edinburgh in 1987, before becoming regulars at St. Ann's Square in Manchester. They went on become the house band on television show Danny Baker After All, performing with artists such as Squeeze and Suggs from Madness.
The performance was outstanding, playing both amplified and acoustically, with the clarinetist and keyboard maestro Ollie climbing Kermode's bass like they used to when they were young buskers.
The strange array of instruments, including a washboard, sounded fantastic in the theatre. The band treated us to five songs, before covering Teenage Kicks by The Undertones for an encore. They were met with minutes of well deserved applause upon finishing.
After Kermode signed a seemingly endless amount of books after the show, we got a chance to catch up with him…
Q) How did it feel to be up on the stage with the band again?
A) Brilliant, I mean you know it was just like we kind of never stopped. So it was really really good. Obviously we're all 30 years older than we were before but it was really good fun. It was really great, it was really lovely to be doing it hear at HOME.
Q) Have you got any plans for any future shows?
A) Well we officially don't, but the fact is we kind of really really enjoyed it so it's not impossible that we will do it again, we might do it again.
Q) You mentioned in the show that you used to practise here at HOME.
A) Yeah we used to play very, very near here and then we used to do gigs around this area because this is all kind of you know newly developed and there were rehearsal studios and things around here. So we used to you know hire out rehearsal studios, but it was just really lovely being in that theatre.
Q) HOME got a mention on your most recent radio show as a "great cinema", any expansion on that?
A) I used to go to Cornerhouse and obviously I think that when Cornerhouse moved to HOME it was a big legacy to sort of follow on with. But I think it's brilliant, I mean they've got really good projection facilities. That theatre that we just played in has got one of the best temperate sounds, we were able to play at the very front of it and you didn't need amplification, you could get away with it.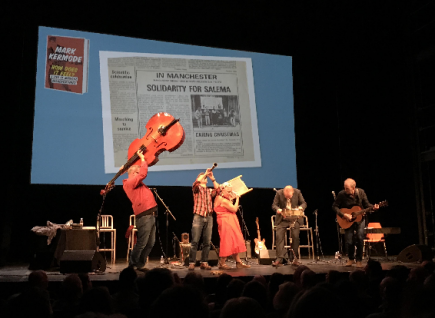 REUNION: Mark Kermode (left) and his old band The Railtown Bottlers played together on Tuesday for the first time in 20 years
They can show 35mm here, also HOME as an organisation supported Lek & The Dogs the Andrew Kötting film, there are very very few people who are backing that kind of experimental cinema nowadays.
I just think it's really great, and when we come up to Manchester we often come up here just to come and eat or something, because obviously I've seen films the last thing I want to do on a Saturday night is go and see a movie. But we'll come here and have a meal and a drink because it's just a lovely place to meet up, which was the whole point of Cornerhouse, it was meant to be a kind of cultural hub
Q) What's your fondest memory of Manchester?
A) Probably busking in St. Ann's Square on a Saturday morning, alternating sets with Rob Gray's Little Big Band. Stopping to go into the Royal Exchange to get a cup of coffee because your fingers would be cold and it would be winter.
Picking up the hat full of money that may be like 50 quid or 100 quid in loose change. Then going back to John or Ollie's flat in Levenshulme making toast and counting out the money whilst watching rubbish Saturday early evening television, before going out to a party, because we would get booked to play at parties, where we would be paid in beer.
And that still for me is one of the most perfect days imaginable and we used to do that regularly. Busking in St. Ann's Square was just something else.
Image courtesy of HOME via Twitter, with thanks.