On the latter half of the train route from Manchester to Huddersfield is the small yet bustling village of Slaithwaite.
Flowing between its cute stone buildings, housing numerous antique shops and cafes, are both the River Colne and the Huddersfield Narrow Canal – and between the two lies an old mill, which currently houses The Handmade Bakery.
Established ten years ago, the bakery is not for profit – a workers co-operative owned and run by its members. In spite of (or perhaps because of) this, its bakers produce more than 2000 loaves of bread and patisserie each week, and they're very proud of their artisanal roots.
So proud in fact that its contemporary styled café space allows customers, both sitting-in and on-the-go, the ability to look over at and admire the master bakers at work.
Among a team of 30 staff, there are just five bakers, who are tasked with arriving in the early hours to make sure the daily quota is met.
The best in the business. @handmadebakery amazing fresh bread, pastries and cakes. Grab them while you can. Won't last long. pic.twitter.com/FwA9atmvaD

— Magic Rock Tap (@MagicRockTap) August 5, 2018
And this is no easy task. Customer demand is high, and more often than not their bread racks are empty by lunchtime, with a constant demand for desserts, drinks and other food items keeping workers on their toes.
Regardless of how busy they are, however, they're always friendly and more than happy to help with any requests or queries put to them.
But if their supply demand wasn't enough for them to balance, The Handmade Bakery also offers fortnightly courses in a number of specialist areas.
Courses range from artisan bread and wild yeast baking, to italian baking and even artisan patisserie. These day courses aren't cheap, at £130 per person, but with consistent good reviews it's likely you'll get your money's worth.
Also worthy of your money is the bakery's food itself. With a weekly rotating menu, the selection to choose from is fresh on each visit (but with a few staple choices displayed on wooden clipboards at each table).
It's more than likely that one of the rotating styles of bread will be incorporated into the menu – on the week of our visit, the bakery's beautifully crisp focaccia was incorporated into a melt-in-the-mouth sandwich delight, hosting mozzarella, pesto, sun-dried tomatoes and roasted peppers.
Perhaps too good to be true, the delicious ensemble fell apart within a few bites – but this is no doubt due to being jam-packed with fillings to the point of overflowing rather than a fault in the integrity of the bread.
Each mouthful was pure joy, with all flavours pairing together beautifully, topped with the delightful crunch of the focaccia's rosemary and salt.
Also among our selections were two gargantuan slices of frittata. The subtler taste of the egg base was contrasted perfectly by the sweet crunch of the vegetables, each different one adding something new and wholly wonderful to the palate.
To close out our meal we indulged in tea and lattes, all of which were brewed to perfection. The coffee blend was hearty and creamy, while the breakfast tea was the perfect level of bitter, dry and sweet.
Sweetest of all was the price of our feast, costing us just £16 for all three of us to eat our fill.
While the café is unable to specifically tailor to dietary needs, its rotating menu does occasionally offer gluten-free or vegan options, and among these is a fluffy rich vegan chocolate cake that isn't for the faint of heart.
It would take a true chocolate lover to indulge in it as a standalone dessert, but for those inclined to give it a try we recommend getting it as a takeout and enjoying at home with a scoop of vanilla ice-cream – it's truly a match made in heaven.
Takeout may in fact be preferable for a number of people – indoor seating space is limited and convivial. While outdoor seating is also available and sports a scenic view, the 'lovely' Yorkshire weather means it isn't always suitable unless you're willing to get both you and your food a bit soggy.
But the atmosphere created by the combination of the converted mill, the smell of freshly baked goodies, and knowing you're surrounded by a warm and welcoming community is one that can't be beat, and is surely a big part of what keeps regulars coming back for more.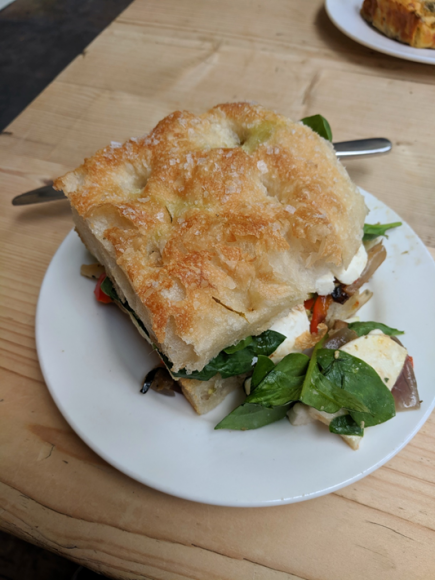 HEARTY HELPINGS: Portion sizes are nothing to scoff at, easily defeating even the most ravenous customers