The run up to this year's Academy Awards was shrouded in controversy after, for the second year in a row, there were no nominees from ethnic minorities.
Spotlight stole the headlines at the awards ceremony by unexpectedly beating favourite The Revenant to best picture, whilst Mad Max: Fury Road scored big in technical categories and Brie Larson took the best actress statuette for her role in Room.
Sunday night's awards also saw the self-fulfilling media prophesy that has been Leonardo DiCaprio's fruitless search for Academy recognition come to an end.
After years of disappointment for roles arguably far superior to that of Hugh Glass in The Revenant, DiCaprio finally has his Oscar.
.@chrisrock may be doing it for the culture tonight. #OscarsSoWhite pic.twitter.com/kXFySgnt1I

— Johnetta Elzie (@Nettaaaaaaaa) February 28, 2016
However, attention fell upon a snub with far grander implications as for the second year in succession the Academy failed to recognise any actors or directors of colour for any of the major category nominations.
The Oscars so White controversy began to gain huge media attention, particularly after a number of Hollywood stars – including Spike Lee, Lupita Nyong'o and Will Smith – announced their intention to boycott the ceremony in protest of what has been referred to as a 'whitewash'.
And host Chris Rock compounded the Academy's problem with a highly politicised performance, describing the night as 'the White People's Choice Awards', and joking that black people didn't care about who won best cinematography because they were 'too busy being raped and lynched'.
The scandal comes after years of increasing pressure on a number of US institutions, which have been accused of institutional racism and campaigns such as Black Lives Matter have gained wide media attention.
The Oscars have since been branded as anachronistic and out of touch, leading to the Academy starting the process of updating its board of voters to include a more diverse group of members.
However, some have suggested that actually the problem runs much deeper and is an issue that the whole film industry is culpable for and not just the Academy.
Charlotte Rampling was condemned earlier this year, after suggesting, that the 'Oscars so White' controversy was 'racist to whites'.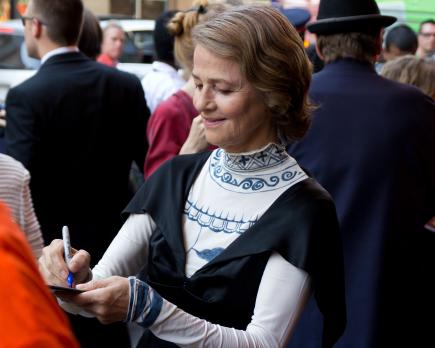 RACIST TO WHITES: Charlotte Rampling faced criticism for her controversial comments © Tabercil, via Flickr
Such criticism shows that though opinion on who does and does not deserve to be nominated is largely subjective, many were surprised not to see a number of names appear among the nominees.
Deyika Nzeribe, organiser of Kinofilm and Fade to Black's Oscars so White discussion panel held in Manchester on the day of the Oscars, told MM that Rampling's comments and similar sentiments from New York critic Andrew Gruttadaro held no merit.
"There are plenty of critics who talked or wrote about Oscar nominations for black actors throughout the year," she said.
"The most high profile snubs appear to be Beasts of No Nation, Creed and Concussion.
"Studio heads are generally white and have little idea what BAME communities might want to see. They are generally not known for their diversity either.
"It depends on the type of majority black cast. Straight Outta Compton made approximately $200million, Creed is doing well, but I would argue they are more the exception.
"Hollywood does black films they are comfortable with, especially where the Oscars are concerned.
"Django Unchained, The Help, 12 Years a Slave. It's much easier for this type of film to get made and be award recognized."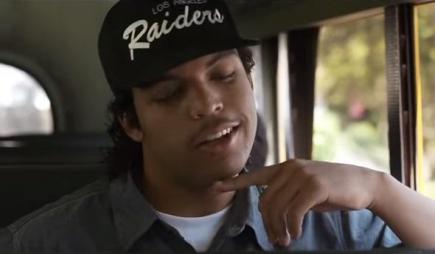 RECOGNITION: Straight Outta Compton had an all-black cast – but its scriptwriters were white © Universal Pictures, via YouTube
Despite this, research has shown that whilst Oscar nominations for black actors was roughly proportionate to the black population of the US over the last ten years, BME groups were grossly under-represented in the film industry at large.
According to The Economist, white people make up 94% of studio heads and take approximately 85% of the top film roles, despite only making up around 60% of the US population.
This does not exempt the Academy from criticism, but it may shed some light on the larger problem.
Some have suggested that studio bosses simply produce what they believe that the public want, turning the focus on whether there may be less interest in films with majority BME casts.
The obvious exceptions to this have been the great financial and critical success of both Straight Outta Compton and Creed.
However, Straight Outta Compton's scriptwriters were white, as is Sylvester Stallone who received the supporting actor nomination for Creed.
Regarding, public disinterest in BME-led casts, some have suggested there may exist an 'empathy gap' between white audiences and BME-majority cast.
Lwimbo Kunda, also involved in the Oscars so White panel event, told MM that by taking this stance, studio heads are failing to give the public credit.
A fact to know: Only 9 non-white actors have been nominated for an acting award in the last 5 years. #OscarsSoWhite pic.twitter.com/PGl7RyI54r

— HuffPost BlackVoices (@blackvoices) February 29, 2016
"I think that people underestimate audiences and do not realise that they grow and change," she said.
"The success of Straight Outta Compton is a prime example of this.
"I think that studio bosses need to move into the 21st Century and realise that diversity in film can be very profitable.
"I do think that white audiences often have low expectations for black films but I think that this has to do with investment and marketing."
Selma, 12 Years a Slave and Dear White People are all films with majority black casts that, in the last few years, have been well received by critics but were forced to rely on funding from independent producers, black investors and crowdfunding sites after struggling to get support from major studios.
This is not a problem limited to the United States.
Idris Elba recently spoke of similar problems within the British film industry and, in spite of great success in Asian markets, the latest instalment of Star Wars hit controversy when its lead actor John Boyega was made less prominent on promotional posters for the film in China.
Alternatively, as recognised in controversial comments made by director Ridley Scott, there has been a suggestion that there are not enough BME actors with name-recognition grand enough to draw big audiences and therefore big box offices.
Popquiz: What's missing on the #Chinese version of #StarWarsTheForceAwakens poster?#StarWars #racism #racist #China pic.twitter.com/6yT74xlvpw

— Matthew Valdivia (@MateoDeValdivia) December 18, 2015
Scott has been widely condemned for selecting an all-white cast for his upcoming Egypt-set film, Gods and Kings, and Ms Kunda criticised Scott's excuse as being particularly weak.
"I think audiences are tired of this lazy filmmaking and lazy casting," she said.
"If you are a good director you can work with diverse actors and excel.
"Look at Captain Phillips – a fantastic film that didn't use white actors to play black characters.
"We need to move on from this backward mind-set as it is perpetuating a racist film industry."
The Academy is trying to use the scandal as a watershed in its history, taking the opportunity to replace older members with a new, more diverse group.
However Mr Nzeribe was sceptical of such changes, hinting that diversity runs much deeper than skin colour, highlighting that if one is Harvard educated, the colour of their skin is unlikely to make much difference.
Ms Kunda was more positive, stating her hope that, eventually, 'fairness will be achieved'.
"As long as they recognise it and are doing something then I'm happy," she said.
"They should try a few things to see what happens but hopefully the issue will be resolved and fairness can be achieved."
Many will hope that the attention and awareness can be used positively to progress an industry that has been left behind.
Alejandro González Iñárritu, winner in the best director category this year for the second successive year, outlined his hope for the future of the industry during his acceptance speech.
He said: "What a great opportunity to our generation to really liberate ourselves from all prejudice and this tribal thinking and make sure for once and forever that the colour of your skin becomes as irrelevant as the length of our hair."
However, without meaningful and committed change, such words, though poetic, will be in vain.
Image courtesy of IMDb, via Twitter, with thanks