Remember the Ice Bucket Challenge? Now, there is a new challenge sweeping social media called the #IceFoot92 challenge, which aims to raise more funds towards treating Motor Neurone Disease.  
The challenge created by the Len Johnrose Trust involves dipping your feet in icy cold water for 92 seconds, and is hoping to get all 92 clubs and their fans within the Football League involved. 
The challenge was chosen because people with MND often have numbness in their feet, hands and limbs, which is replicated through this challenge.
The Trust was set up by former footballer Len Johnrose and his friends in a bid to raise more awareness for the life-shortening disease.
Having being diagnosed himself in March 2017, Johnrose has been battling MND for the last four years, and throughout this time has completed countless fundraisers to raise money.
One friend who is involved with the Trust is Dean West, who is a long-time friend of Johnrose and played football with him at Bury and Burnley from 1995-2002. Whilst he now raises awareness for the disease, West does admit that when he first got told about the diagnosis he had very little knowledge on the subject.
Reflecting on the day he found out, he said: "It's one of those things that stays with you, I remember exactly what day and where I was when he told me."
"I was a scout at Lincoln City at the time and I'd just come out of Macclesfield, and I remember we hadn't spoke for a few days. We had a bit of chit-chat, and then he told me he had MND, which I'd never even heard of.
"My first reaction was 'right, how do we deal with it', and he said you don't. You have two-five years and then that's it, you're gone.
"Obviously over the years I've learned a lot and you become more aware, but at the time I didn't really want to know any more than what Len had said."
MND describes a group of diseases that affect the nerves (motor neurones) in the brain and spinal cord that tells the body what to do.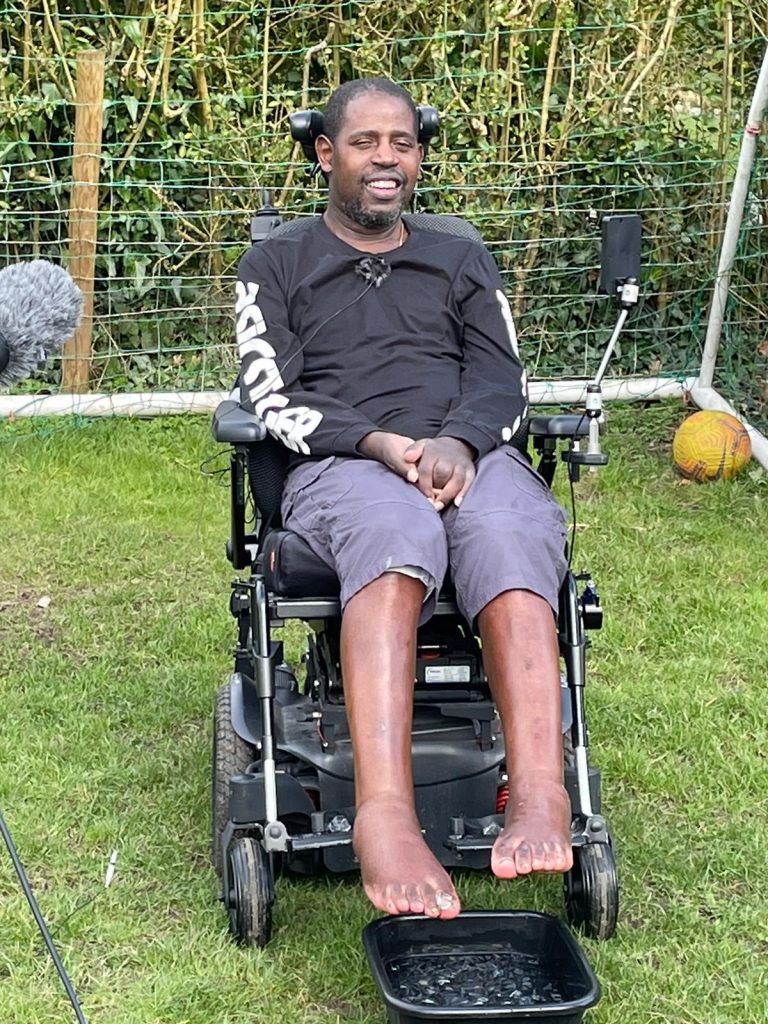 The disease currently affects about 5,000 people in the UK at any one time, and life expectancy following the beginning of symptoms is about three years, however some people diagnosed can live for up to ten years.
With early signs of the disease not always being evident from the outside, Johnrose decided it was initially best to wait a year before telling his children – daughters Chanel, Elizabeth and son Patrick, about the diagnosis.
But in 2018 he decided to go public, and through the launch of the Len Johnrose Trust he has connected with different people suffering from the same disease, including former footballers Doddie Weir and Stephen Darby.
West believes that by coming out to the public and being open with the diagnosis, it has made it easier for him to deal with.
"His attitude to life hasn't really changed that much. Obviously, I feel like I know him inside out, and he's just got one of those can-do attitudes where he always thinks about the next step."
"Obviously it's well documented in his book that he's been through some dark times, but he's got through them by keeping busy and by going public he also got a lot of support."
Having stayed close with Johnrose throughout his battle, West has witnessed first-hand the cruel nature of the disease, from losing the ability to move most of the lower half of his body to struggling to communicate.
But West says despite this it has been inspiring to see Johnrose continue to maintain a positive attitude, and although he finds it harder to communicate now the pair still have a jokey relationship:  "The first thing Len said is he wants things to stay normal. If you take the piss out of me, I'll take the piss out of you.  
"There's certain things you can't do obviously, but we've had that conversation about keeping things as normal as possible. You've just got to enjoy life as much as possible."
"It's not been easy, but I'm on the same page as Len. It's all about what can we do next, how can we keep in touch more and how can we make life better."
Helping him tell the public was BBC Radio Lancashire's Sport Editor Andy Bayes, who worked alongside Johnrose reporting on matches for around 15 years.
Bayes interviewed Johnrose live on radio when he first told the public, and can also recall not knowing much about the disease before this:
"My knowledge of it was extremely limited. In terms of how brutal it is and how it can get hold of someone so quickly, I was very much in the dark.
"I just said to him from day one if there's anything I can do to help count me in. That still remains the same and will remain until Len says otherwise."
Since then, Bayes has become heavily involved in the Len Johnrose Trust, and has taken part in their latest fundraiser, the #IceFoot92 challenge, three times already.
Having been launched over the Easter weekend, the challenge has already raised nearly half of its £92000 target, and Bayes said he is delighted to see how many people have been getting involved.
"We had numerous meeting with the Motor Neuron Disease Association in the build up to it, and have been delighted with the involvement so far.
"We hope many more people will take part too. We're about halfway towards the target of £92,000, and it is wonderful to see people of all ages having a go.
"What we need to get out there is that its great people are doing the video, but we also need the donations."
Embed from Getty Images
The money raised from the challenge will be spent on different areas towards both raising awareness and finding a cure, with the MND association helping decide which areas it can contribute to the most.
The MND association was established in 1979 by a group of families affected by the disease, as they felt there simply wasn't enough support or information available regarding it.
Bayes also believes that whilst the association has come a long way since then, there is still a lot of work to do to raise more awareness:
"The money will go towards a very worthy cause that has been underfunded for many years, and as Len always says there is no league table of terminal illnesses – but he feels that it hasn't quite got the same status as other life-shortening illnesses.
"We are getting there but I can't stress enough how much I hope we are getting closer to a cure for it. To watch people go through it, it's really not a nice thing at all."
Bayes also said that although it is tough seeing people suffer from MND, being close with Johnrose has changed his own viewpoint on life's problems:
"He makes me so proud to be his mate. Nobody deserves to go through this, in particular someone who was a fine athlete and a teacher to Primary school kids.
"To see how much dignity he lives his life by and how amazing his family has been, it does make you realise that if you're having a bad day, you can give your head a wobble and realise there's some people in a lot more difficult situations."
To take part in the #IceFoot92 challenge, post a video of yourself on social media standing in a bucket of ice water for 92 seconds, and challenge your mates to also take it on. 
Once you've done this, you can donate £10 towards the MND Association by texting MNDLEN to 70085.