St Peter's Square hosted 51 firewalkers yesterday who hotfooted it over burning coals to raise cash for Manchester community groups.
We Love MCR is a charity based on giving back to the community of Manchester as it aims to support local communities and provide opportunities to the younger generation.
In the past they have raised and awarded just under £1 million to Manchester Covid-19 charities and groups during the pandemic.
As dusk fell over Central Library, the stage was set and the fire was lit for the participants to walk across the hot embers.
The wood was lit 45 minutes before the main event at 19:00 where the fire reached a temperature of 1200 degrees.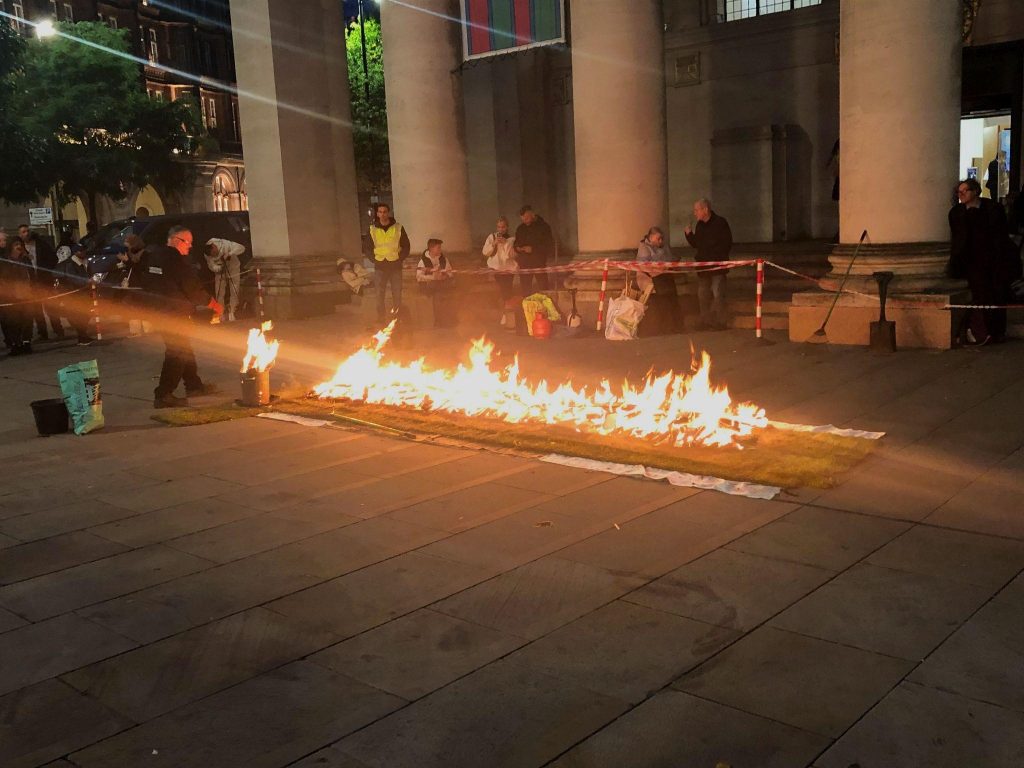 However, the temperature which was walked across was between 500 and 700 degrees, with second degree burns being inflicted at 120 degrees.
The event, which was held in the heart of the society centre, drawed in a large crowd around the fundraiser.
The white stone of the library and Manchester Council Customer Service Centre created the perfect backdrop.
A quick debrief from the organisers and the firewalkers were ready to begin.
Participants of the event included the Deputy Lord Mayor of Manchester Councillor Donna Ludford, and social media influencer and ambassador for We Love MCR, Rosie Williams.
Each partaker triumphantly shouted their name out before stepping onto the 500 degree path.
Their achievements were met with cheers and applause from the audience after they completed the firewalk.
We Love MCR supports young people and communities in Manchester and provides them with opportunities which wouldn't have been achievable without financial support.
The charity surpassed their attempted target of £10,000 as they raised over £15,500 including the money donated by event sponsors Sync.
The charity says on their website: "The funds we raise go directly to groups doing great work in our communities, supporting our young people to reach their ambitions, and being ready when Manchester needs it the most.
Nick Clarke, communications lead for We Love MCR, spoke to Mancunian Matters.
He said: "It's all about giving opportunities to those in Manchester and the local community who have the ability but not necessarily the opportunities easily accessible to them. We want to provide them opportunities."
"The money raised tonight will go straight to our Rising Stars and Stronger Community
The Rising Stars Fund aims to give young Mancunians a helping hand to take opportunities that may otherwise be out of their reach.
Whilst the Stronger Community Fund empowers local people to improve their own communities and spaces, whenever they are ready. We listen, and act on their inspiring ideas.
Clarke additionally said: "We are wanting to make these challenges a regular thing and considering in the future we want the public to help us decide what challenge we do next, but I had considered abseiling down one of Manchester's buildings."
"The atmosphere was fantastic and the turnout was great! I was just thankful that nothing went wrong and nobody got hurt."
"It's all about giving opportunities to those in Manchester and the local community who have the ability but not necessarily the opportunities easily accessible to them. We want to provide them opportunities."
We Love MCR have said on their website: "We give heart, hope and opportunity to the people of Manchester, when they need it the most."
To donate to We Love MCR, visit https://uk.virginmoneygiving.com/charity-web/charity/displayCharityCampaignPage.action?charityCampaignUrl=firewalk2021
Or for more information on the charity and their next fundraiser, visit https://www.welovemcrcharity.org/