Manchester Giants guard Stefan Gill admitted he and his teammates had to take a hard look at themselves after losing three straight games to leave their BBL season on the rocks.
However after losing on Friday 96-80 to Sheffield Sharks, the Giants produced a rousing offensive performance at home on Sunday to beat Surrey United 101-90.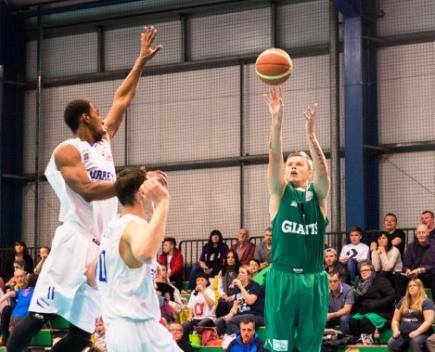 SHARP-SHOOTER: Big points for Bankevics
Gill and fellow guard Ingus Bankevics starred, scoring 23 and 28 points respectively, as the Giants put up gaudy numbers in what was a hugely important early-season victory.
On Sunday Gill told MM: "It was super-important we got this win. It didn't matter who the win came against – it could have been against a bunch of high school kids – we just needed to win.
"We had to get the morale of the team back up because we have been slipping morale-wise a little bit and it's way too early in the season to do that."
After an historic victory against title favourites Worcester Wolves earlier this month, Gill admitted his side allowed themselves to get carried away and duly suffered by losing their next three.
Gill said: "Everybody has to look at themselves – there's only so much leading guys like me can do. We encourage people not to get too excited after big wins, and everyone needs to understand this is the job.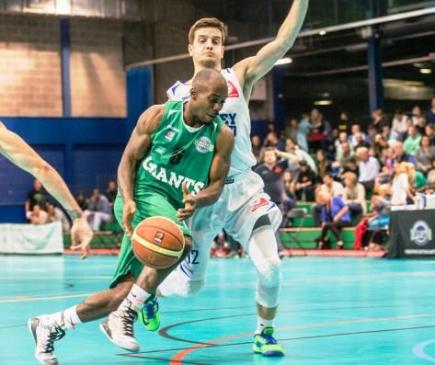 LONG WAY TO GO: Gill points to the fact the season is not even halfway yet
"It's a very long season and your seasons aren't made in the first or 15th game. They go right the way down to each of the 30, 40 games and everybody needs to collectively understand that."
Callum Jones echoed the sentiment, telling MM that in a league as competitive as the BBL it's of the highest importance not to let emotions run too high game to game.
"Sometimes we're a bit of an emotional team and I think certain people probably got a little bit too excited after the win over Worcester Wolves," he said.
"We need to keep on a bit more of an even keel because this league is very, very open this year and any team can beat any other team so we have to just stay level-headed.
"We have to learn to never be too down after a loss and never be too up after a win."
Star centre Mike Bernard sat out both weekend games injured, and with no natural replacement in the squad Giants coach Jeff Jones had to quickly devise a strategy to score points without him.
And on Sunday his game plan was executed perfectly, as his re-jigged offence focused on zipping the ball around quickly and finding open men on the perimeter.
The Giants hit Surrey for 14 three-pointers, half of which were scored by Bankevics at an otherworldly rate of 70%.
The team learned at the weekend that Bernard will be out for another two weeks which, while not as bad as once feared, is a big blow as they prepare to face Durham Wildcats on Sunday.
Coach Jones said: "Against Surrey we really played well – we were much more physical, which is what we have to do when Mike (Bernard) isn't playing.
"What made the difference is that we figured out how we need to play in these games. Unfortunately we have to go to Durham Wildcats without Mike and hopefully we'll play the way we did (on Sunday)."
Manchester Giants vs Surrey United: I Bankevics 28pts; S Gill 23, 5rbs; B Eaves 14, 9rbs; C Jones 14; D Watts 10; M Gayle 8
Images courtesy of Jack Hinds, with thanks.