A local Kickstarter has raised thousands of pounds to help produce a Manchester based-indie sci-fi film set in the stars.
Newfound Planet films, a Manchester based indie production company, took to the crowd funding website after producing a vastly popular script amongst the cast and production team.
Within months the film, Black Box, has exceeded its original target of £4,000 – raising £5,415 in total by the public with 13 days left to go.
The film's producer Gemma Bradley, said: "Everyone that has had the script so far has wanted in on it which is exciting.
"Black Box will be a one-person survival thriller, sci-fi film and will have the "claustrophobic feeling of Ryan Reynolds film, Buried, mixed with Gravity."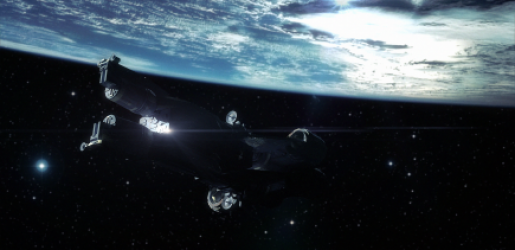 BLACK BOX: CGI footage of a pod in space
The film will be about a survivor, trapped in an escape pod, trying to return to Earth after an accident in space.
Co-written by Ángel Delgado and Manchester-based writer Ben Edmundson, the film has had a great response.
After the production team were sent the script, crew members said: "Tell me what you want me to do and I will come."
The Northern Irish producer is hoping for the film to hit local independent screens in Manchester, saying its for everyone to 'see their hard work on the screens'.
When asked why sci-fi, Miss Bradley said: "We are all big nerds really, we are all sci-fi fans and write sci-fi stories."
After already raising 135% of their original target, the ambitious and excited duo, Ms Bradley and Director Mr Delgado, have already updated their target to 'unlock' fancier effects for the film.
They're hoping to start filming early 2016 once production is set up and will be casting for the film in Manchester.
The producer and director met on their first feature film, Brothers Day, a crime drama, which was also a Manchester-based indie film.
It sold out three nights in a row at local independent cinemas screening the film.
Brothers Day is going to be released on DVD and on demand (available for download in the UK), in the Republic of Ireland, Australia, Canada and North America.
Ms Bradley added: "We haven't cast yet. We have a lot of crew from previous projects but there is always room for more."
But do not expect this new film to be the last that you hear from Ms Bradley, Mr. Delgado and Newfound Planet, as a long-term, 'much larger sci-fi project' is a prospect to follow up this highly anticipated film.
Ms Bradley has urged that the more money raised will mean there will be more money to go towards resources for the production of the film.
The production team took to crowd funding after being restricted to a budget that was sufficient to produce the film, but insist that a fair amount of money has been contributed towards the production of the film.
If you would like to 'become an astronaut' and get rewards from this intense one-person survival thriller, click here.